It's genuinely too bad that Star-Crossed didn't make it on to the CW renewal card.
I really did enjoy the show and, unfortunately, Star-Crossed Season 1 Episode 13 left a lot of unfinished business.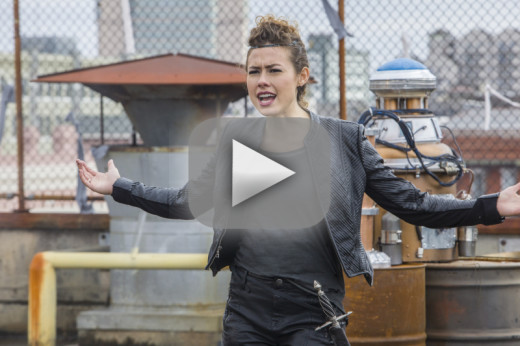 Had the writers and producers known earlier that they weren't getting a renewal, I'm sure they would've closed things out differently. But such is life, so we'll just have to review this last one the way it aired/
Star-Crossed Season 1 Episode 12 ended with Roman's life in peril. Emery would have done anything to save his life and that meant putting her trust in Teri.
I said last week that I felt like when Roman told Teri that she was better than Castor that it probably really sunk in with her. We've spent the season wondering where her alliances were and how she truly felt and in the end she proved herself a good person by turning Vega in to Gloria.
And of course saving Roman's life.
Roman: Fighting for my people nearly cost us both our lives.
Emery: Yet here we are.
In the end, they all gave it their best effort. With two seconds left on the clock, Roman thought he disarmed the Suvek, but there was a back up plan. After the blast went off, Roman and Drake realized that everyone seemed more knocked out than dead.
Well, except for maybe Grayson...
The blast, as it turns out, was a signal to the other Atrians to come for them. That likely would have been the premise for season 2: the aftermath of the blast and the arrival of Atrian warships.
This episode gave us a lot: everyone working together, one last horrible effort from Zoe, the takedown of the Trags, a Romery sex scene, Draylor planning for baby, Gloria showing us the future of Atrian/Human famiies, and a reappearance by Roman's half brother.
Also there was an awesome conversation between Julia and Eric that I feel should be noted.
You don't know this, but I've come pretty close to death before and I learned you have to believe you're gonna make it or it's like you've already lost.

Julia [to Eric]
So, what did everyone think of the last episode of Star-Crossed? Did it do the series justice? Vote below and sound off in the comments!

Leigh Raines is a TV Fanatic Staff Writer. Follow her on Twitter.

Tags: Star-Crossed, Reviews
Want more Star-Crossed?
Sign up for our daily newsletter and receive the latest tv news delivered to your inbox for free!
More From TV Fanatic
We don't like to gossip but there was plenty of it on The Real Housewives of New Jersey Season 6 Episode 3. We recap the rumors in our +/- review.
Jamie enlists Roy's help to clear her pro bono client with whom she has a unique bond on Reckless.
A vicious crime against the GR causes uproar. Read our review of The Leftovers Season 1 Episode 5.
It's Vegas, baby! On Halt and Catch Fire, the team heads to COMDEX to promote their PC venture. But more obstacles get in their way and a certain choice could tear the team apart.
---