After a strong attempt to take down Castor and take out the Suvek, Roman and Drake found out they were less successful than they thought.
Star-Crossed Season 1 Episode 12 was all about the race to destroy the Suvek.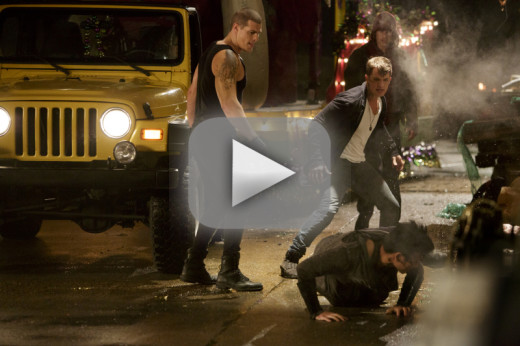 Clearly the task was more than just the two of them could handle alone. So, who could they turn to? Vega is very clever, Castor was MIA, Teri was two-timing and the elders didn't listen to Roman about threats the first time.
Not to mention that Castor discredited Roman amongst the Atrians by broadcasting the video of having a human girlfriend.
They needed a radical idea so why not turn to another radical group? Luckily, Grayson and Emery proved pretty quickly that their new version of the Red Hawks was nothing like the old group. I agree with the commenters who said they should've picked a new name!
If you could all just take the testosterone down a notch, you'd see we all want the same thing here, right?

Emery
Adding in Sophia and Lukas and the gang was all set. They went with a reverse of the Trojan Horse move. Instead of sneaking something into the sector, they used to Mardi Gras Unity Float to sneak the Suvek out.
Saroya almost delayed the whole thing by putting Drake in a sleeper hold to keep him from helping his friends. Did anyone else think for a minute that Drake was resisting? Well, when he came to, Drake showed his mom that he wasn't messing around and she provided some major help.
When the two finally escaped, he told her he couldn't run away with her. His reason why no doubt elicited a collective happy gasp from Draylor shippers everywhere.
Her name is Taylor, she's a human, and she's pregnant with my child. I can't run away from that, from her.

Drake
Did anyone believe that Teri was ever on Castor's side? I really didn't know who Teri was truly looking out for. If I had to answer now that we saw her kill Castor, I would say that Teri is really just out for Teri. Yes, she wants her mother's approval, but she's also slowly realizing that everyone is just out for themselves and people were using her.

I think Roman warning her in the midst of them fighting was a wake up call. Roman cares enough about Teri to not want her to get mixed up with Castor. Now that Roman needs to be saved, I think Emery will actually be able to turn to Teri for that assistance. Teri loves Roman, after all.

The minute Grayson said he was going alone to deliver the Suvek to Gloria, I had a gut feeling that something would go wrong. Did anyone else think that Zoe was alive? I thought she was gone, but I guess it's never really over until we see a body.

Were you surprised? Vote below and then sound off in the comments!

Leigh Raines is a TV Fanatic Staff Writer. Follow her on Twitter.

Tags: Star-Crossed, Reviews