It was time for a transitional period and The Good Wife Season 5 Episode 20 didn't really move any stories forward.
Instead, it featured a cut from real life case at Lockhart/Gardner and it followed Alicia as she struggled to fill a day on her own without work.
Eli was interested in getting Finn Polmar on the record with regard to his candidacy now that Peter has thrown his weight behind him. Therefore, he set up a television interview.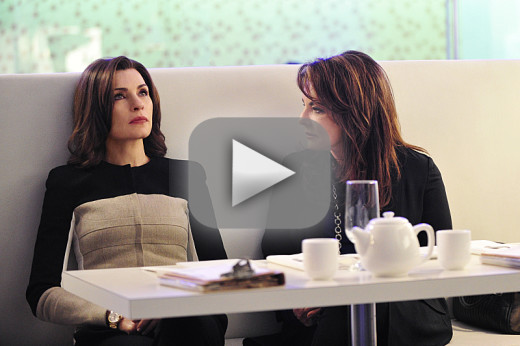 Finn was in and out as he was integral in the case with Diane at Lockhart/Gardner, but the main portion of his story was sharing a bit of himself through the interview. Had anyone shared before that Will was making an attempt to stop Jeffrey Grant when he was shot? It seems weird that someone would paint Finn as the hero when that would clearly have been Will. I suppose because he survived.

What struck me about Finn is how extremely unemotional he is about everything. When we were originally introduced to his character, he seemed more lively. Did the shooting and the subsequent shove under the bus by his boss take such a toll on him that he's changing? He seems like he may still be on pain killers.

Diane was saddled with a case because Canning set it up for her without asking. He and David Lee have been intercepting calls and generally being backhanded in their dealings with her. To top it off, they used the "Canning is dying" card to try to hide their posturing. 

That his death is a foregone conclusion makes what they're doing even worse. He's a cad to the very end of his days. What a horrible way to live. I'm interested to see how he and Lee are trying to screw her and I really hope she screws them first.

The case about the deep web and Silk Road was all, essentially, true. Not the players of course, but there is an actual Silk Road selling illicit drugs and the person responsible was ultimately jailed, but someone else took over his online moniker and it's back online and selling more than ever.

I'm kind of surprised they were permitted to use the same name, considering it's a real entity. I guess since it's an illegal business and the authorities would like to shut it down again there are no real boundaries. In all honesty, I didn't follow why Diane recused herself from the case, although I suppose as long as you are not a court appointed attorney you don't have to do anything you don't want to do unless a judge forces you.

Alicia's day off was interesting. It was enjoyable seeing Veronica again (and the hot young thing she's dating) and her allowing her daughter to cry on lap with some wine giving her some much needed comfort.

At jury duty, she met a handsome, apparently unmarried guy and yet she still didn't want to have drinks with him. Well, she did, but she was too uncomfortable to go through with it. She's obviously still grieving over Will, but their affair was over long ago, as was her marriage. 

But we have to wonder, just like Alicia did -- exactly who is she being faithful to? That's essentially the question at the heart of The Good Wife in the wake of Will's death and as she pushed herself further away from Peter. 

What's Alicia's next move? She's still a young, vibrant and loving woman. She's not going to want to be alone for the rest of her life and she obviously cannot maneuver the electronics to have a satisfying single life of movies and TV (like some people I know). Where will that leave her?

Perhaps Finn's emotional shift going to take him away from his family next season and closer to Alicia. If that does happen, it won't be healthy for either of them because Will will be hanging in between them for all eternity. It would never work. It makes sense why they both might be interested, but it's a bad idea all around.

If you want to relive the best of the series, you can watch The Good Wife online. Hit the comments with your thoughts on the episode.

Should Alicia have had wine with Daniel?

Carissa Pavlica is the managing editor and staff writer for TV Fanatic. Follow her on Twitter and on Google+.

Tags: The Good Wife, Reviews