Something tells me it's far from "The Last Splash" for Ramona and Kristen on The Real Housewives of New York City Season 6 Episode 9, as the two had at it once again.
We recap the insults and injuries in our +/- review...
First thing first. Plus 100 to this entire episode. Why? Because Aviva Drescher wasn't in it. I didn't even realize she wasn't there until it was over and then I felt nothing but relief at not being subjected to her special brand of crazy.
Not that we were lacking for crazy. Ramona Singer more than picked up the slack.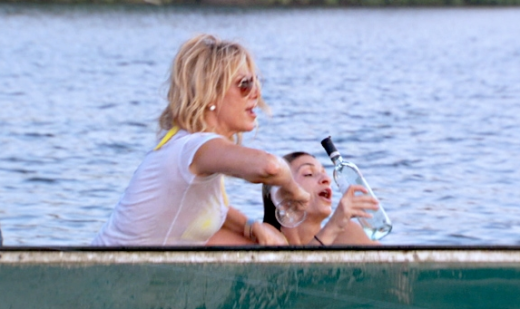 Let's start from the beginning. It was actually quite nice of Kristen to ask her husband to sit down with Sonja and offer her some business advice. Plus 33. If Sonja didn't want it she could have said no.

Sonja was all over the map. She's got plans for diamonds, her toaster oven, a Nigerian football team, French perfumes, even a condom company. Plus 15. No one can say Sonja Morgan isn't diverse. 

Unfortunately the method in Sonja's madness is just more madness.

But Josh was a bit of a jerk. Don't get me wrong. His assessment of Sonja was accurate. "She delusional. She's out of her f**king mind." That about covers it. But sharing his views on Sonja and her business at the dinner party was simply wrong. Minus 20.

Afterwards Heather invited the ladies to her home in the Berkshires for the weekend. 

I can't believe Luann had Sonja navigating their trip. The woman can barely find her way through her own townhouse without the help of three interns. Minus 12. Haven't they ever heard of GPS?

Ramona started complaining before the trip even began and then never stopped. First she was upset because celebrities never go to the Berkshires. "Berkshires are for the people who can't afford the Hamptons." but then followed it up by saying that sometimes you have to do things for your friends…or when you're contractually obligated to BravoTV.

Ramona and Sonja were horrible guests. Ramona knew darn well that Heather's house wasn't the garage. Minus 27. She was trying to push Heather's buttons. And I wonder if Ramona plans to take that air conditioner back home with her. Maybe Sonja can use it since nothing else in her townhouse seems to be working.

The canoes looked like fun and I almost had to laugh out loud when Ramona started talking about tranquility and demanding that people be quiet. Plus 50 because that may be the most ironic moment on this show, ever.

Leave it to Ramona to spread bad news. I think she actually get off on letting Sonja know that horrible things are being said about her and I thought it was funny how Heather and Kristen swam up on the canoe to eavesdrop.

Unfortunately it wasn't funny for long. Maybe Ramona is part Wicked Witch because she certainly has quite an aversion to getting wet. 

When you calll someone a bitch and dis their husband, I think the least you can expect is to get splashed. But if you're Ramona Singer, then throwing a glass at someone's face is a perfectly acceptable form of retaliation. 

Minus 43. She's lucky Kristen wasn't hurt any worse. That could have been grounds for assault charges, especially since it was all caught on camera.

If I were Heather, I'd ask Ramona to leave but we'll have to wait until next week to see what happens next.

Episode total = +96! Season total = -180!

Do you consider what Ramona did assault?

C. Orlando is a TV Fanatic Staff Writer. Follow her on Twitter.

Tags: The Real Housewives of New York City, Reviews, Reality TV