With Opal gone, Marisol dealt with a new hire at home on Devious Maids Season 2 Episode 9. 
From the start, I had a feeling something was off about Molly. Unfortunately for Marisol, she shared a little too much information with the new chatty nurse. Thank goodness for confidentiality agreements, but who knows if Molly will actually keep her word.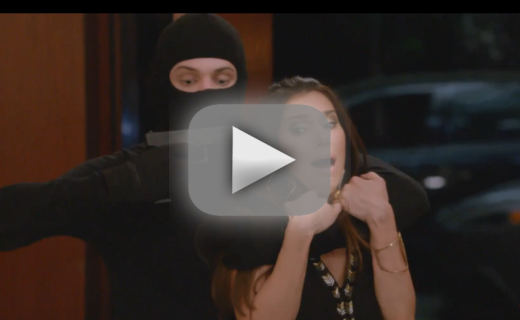 When Adrian and Evelyn visited, Molly shared some interesting news to Adrian about Tony. In fact, Tony wasn't Tony when Molly knew him. Something's certainly up with him, though, and I'm curious to find out what it is. I can't wait to see what Adrian has up his sleeve.  
Meanwhile, Genevieve (AKA Eunice) was surprised when her mother arrived. I felt bad for Genevieve as she was already stressed about her health. Having her mother there certainly didn't help.  
We also learned more about the group of boys including Ty and Ethan, who were responsible for the recent burglaries and Alejandro's murder. They were basically playing Robin Hood and wanted to call it quits after what happened with Alejandro. However, Ty had other plans.
He wanted one more hit to happen at his Uncle Spence's home. More importantly, he wanted to save and impress Carmen. Things didn't go according to plan and Carmen ended up stabbing Ethan in the leg. Ethan eventually was bleeding like crazy and came to Valentina for help.
I am betting that Valentina will go to Remi for assistance and things will start unraveling fast for Ethan. 
Elsewhere, Reggie's plans for the Miller family moved forward way too easily. I was so glad that Rosie was finally catching on and learning how big of a snake he is. It's only a matter of time now until his downfall. 
Other Thoughts:
Of course Genevieve AKA Eunice thought it would be possible to buy organs. Her clueless mannerisms always make me laugh and wonder if she's really serious. 
Summer's come and nearly gone. Now, there are less than a handful of episodes left in Devious Maids Season 2. How did that happen? 
Don't forget to check out our Devious Maids quotes section for some LOL-worthy moments.
All in all, "The Visit" was a good installment with life a bit shaken up for our favorite maids and their employers. I couldn't help but wonder where Opal was because you know there's no way she's officially gone. Also, I still want to know what Nick's secret is. 

Whose demise are you looking forward to the most?

Tags: Devious Maids, Reviews
Want more Devious Maids?
Sign up for our daily newsletter and receive the latest tv news delivered to your inbox for free!
More From TV Fanatic
They can't all be winners, right? Pretty Little Liars Season 5 has had pretty good run of strong installments, but sometimes an...
Evan, Paige and Bob confront Russel about his rug theft, while Divya and Jeremiah treat a woman desiring to be a mom. But were those all the surprises the Hamptons had to offer? Read our review of "I Didn't See That Coming" now!
On Chasing Life, Leo makes wishes come true. Elsewhere, Brenna meets her other sister, discovering one more family secret. Read on for more!
Join us for the One Tree Hill Rewatch of Season 1 Episode 4! Ready to relive the fun drama?
---