On Food Network Star Season 10 Episode 2, the competition most definitely heated up as the contestants' teaching tools were put to the test.
To be a Food Network Star, one must be able to clearly and concisely teach the at-home audience. To test this ability, Alton meets the contestants in the kitchen for the mini-challenge where they must piggy back off of each other to prepare two simple dishes: green bean casserole and chicken fried steak.
They must utilize their instructional skills to teach....Alton! (who dumbs down his culinary genius) to create said dishes.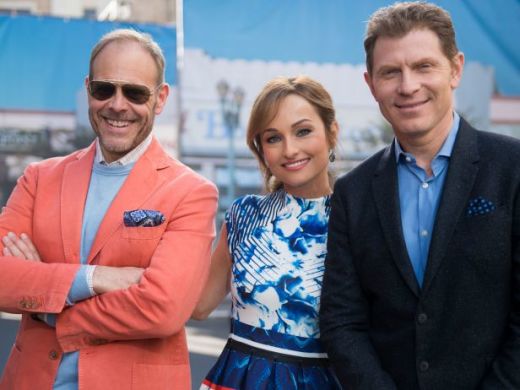 First up, the green bean casserole. Lenny starts things off strongly. All seems to be running smoothly until Sarah decides she doesn't want to use Christopher's diced onions. Sarah asks Alton to throw those out (to maybe save for onion soup later). She wants him to cut long, stringed onions for the crunchy onion topping, "like they should be in green bean casserole."
Christopher is none too pleased by Sarah's actions, but that should come as no surprise, seeing as he thinks he is the best cook of anyone else there.
That's not the only speed bump this green bean casserole hits, though. Reuben forgets to add flour to the sauteing mushrooms before adding the chicken stock. But that's Aryen's problem to solve since she's up next.
Hoping to get some help from her fellow competitors, Aryen voices her concern, picking up Lenny's advice in the process. Lenny suggests she uses the flour in the onion mixture.
Aryen decides to use this advice, receiving Alton's praises. Lenny gets upset, thinking he deserves the praise. And he's right, maybe he does. But he chose to give Aryen that tip. So... that's your fault, Lenny.
It's a competition, after all. Keep sage advice to yourself if you don't want others to benefit from it. 
Moving on to the other dish - the chicken fried steak - this group of competitors seem to do a much better job at giving advice and bouncing off of each other's steps. One tip that was particularly useful comes from Nicole, who suggests using one hand for flour, one hand for egg.
The major misstep comes from Kenny, who with no former practice, fails in making the gravy properly, putting corn starch in it. #MajorFail.
Ultimately, Alton is most impressed with Aryen and Sarah, which is a little surprising considering last week Alton thought Sarah was better off competing in a beauty pageant. 
Now, it's time for the competitors to take Alton's advice into the elimination challenge. The chefs will get 15 minutes to create tasty, tempting dishes from typical household ingredients. In doing so, they will have to pretend, on camera, to instruct at-home viewers how to create their dishes.
The twist, unbeknownst to the chefs, is the judges won't just be watching. Iron Chef, Alex Guarnaschelli, as a prospective home cook, will be mimicking the competitors' every move, using their instruction to create the same dish. 
So...what did the contestants of Food Network Star Season 10 make tonight? Let's break it down. 
Lenny made a Waldorf Crab Cake Salad. He was funny, light-hearted, and energetic, but also clear and informative. His food was also well received. Looks like we got ourselves a frontrunner!
Aryen made a Brazilian Beef Stew, also known as a Feijoada. She instructed viewers to use cream in it, which neither Alex nor the judges were pleased by. Aryen might have used her warm smile to create a good on-screen presence, but that didn't help her food, which the judges still thought tasted bland. 
Loreal didn't bring the same personality we saw on Food Network Star Season 10 Episode 1, watering down her bubbly personality in fear of talking too fast. She whipped up a Brunch Salad to die for, though.  
Reuben suffered the same fate as Loreal. He spoke way too fast while instructing viewers on how to make Scallops al Ajiillo. Home cooks would definitely find it hard to follow his fast pace. And on top of that, his food wasn't even that great. Bobby advised him not to cook his scallops all the way through; because otherwise, they would taste rubbery like they did tonight. #ouch.
Nicole prepared a Couscous Salad, offering up another great tip: to use your ears in the kitchen. She didn't deliver a star quality performance on camera, but Giada thought it was okay for her first time out. 
Chris made a Pork, Apple and Fennel Wonton Wrap. He spent way too much time trying to grab the audience with his stylish personality, that he ultimately wasn't able to finish his dish.
Luca made Seared Tuna on Wild Rice. The food looked delicious, but he didn't, failing to look at the camera, even turning his back to it at one point. He may be nice to look at, but sadly, he had no presence on camera.
Emma made a Shrimp Penne Pasta with Spinach. Great dish, but her soothing voice could put viewers to sleep. Giada said to pick up the pace, hoping to shake her out of her monotony.
Christopher whipped up a Roasted Chicken Breast on Romaine Salad. As the expert he sees himself as, he overestimated the intelligence of the at-home cook, using kitchen slang and not giving quantities. 
Sarah made a Turkey burger and Mashed Potatoes. Keeping up with her good work earlier, she performed well on camera, but lost her "date night" culinary POV. Bobby thought the food was bland and dry, while Alton thought her choice of dish would be better suited for a date with Mom. 
Kenny made a Pan Seared Chilean Sea Bass with Pesto. He provided too much info, not allowing enough time to prepare his dish. And when his burner wouldn't work, he froze, running out of time. He blamed the burners, instead of himself, for failing the challenge. #excuses
At elimination, Kenny took fault for what transpired in the kitchen, but I still think he talks too much. He tries way too hard to impress the judges. He will say whatever he can to get in the judges' good favor. 

At the top of the pack this week was Lenny. No surprise, there. In the middle of the heap were Nicole, Emma, Aryen, Sarah, Loreal, Christopher, and Reuben. And finally, the bottom three were Luca, Chris, and Kenny. 

The judges sent home the one person I thought for sure was going to be safe: Luca! Of the three, Luca was the only one who finished his dish and completed the challenge. Luca had room to grow in front of the camera.

I would've sent Chris home. He hasn't stood out, in a good way or a bad way, and therefore, definitely isn't ready to be a Food Network Star. 

Tags: Food Network Star, Reviews, Reality TV