Whoa. "Who's Your Daddy?" was all over the place.
The main thread of Murder in the First Season 1 Episode 3 was definitely the Cindy Strauss murder investigation, but too much time was spent on extraneous storylines.
There were so many characters who had a moment or two of significant screen time, but most of them didn't contribute to the overall story.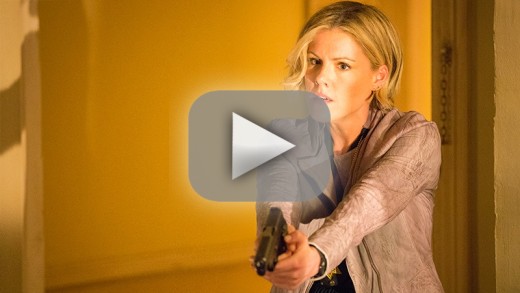 I'm not sure what Murder in the First is trying to get across by incorporating brief insight into the personal lives of the law enforcement officers. Those scenes haven't at least through the first three episode have only taken time away from finding out more about the people involved in Cindy's life.

I was interested in the show because I was intrigued by the case, not the investigators. I expect there will be a payoff for all these side stories when the case goes to trial, but so far neither Hildy or Terry have been well-developed. Instead, the same characteristics have been stressed.

Hildy's a single mom who dates a lot and has an ex-husband. Terry's wife died, he's grieving for her, and for some reason needs a new place to live. Okay. Great. What does that really tell us about them? Not much. Though, the houseboat was awesome and a great escape for Terry. Of course, in the end, Warren Daniels will likely use these in an attempt to discredit them when he defends Erich.

I'm not sure what to make of Hildy helping the boy with his abusive stepfather. She's a good cop, passionate about her job and protecting people. Yet again, it ended up being more of a means to get her put on leave for 10 days than as a way to better understand her character.

Even more annoying was the introduction of a relationship between Jim Koto and District Attorney Jacqueline Perez. Sigh.

I thought that was my last complaint, but then I remembered the entire interaction between Dave and the mother, Hannah. I'm not sure who was worst. Dave should have warned her at some point that he couldn't guarantee her confidence. He failed both as a friend and a cop. And, did she really think if she told him, a cop, about Erich, it would be in confidence? 

Of course, this also could all be a set up. It was awfully convenient of her to come in and point the finger at Erich. I've become suspicious of everyone's motives. She could have been telling the truth and came forward out of guilt as she said. Or she could have a grudge against Erich and took the opportunity for payback. Or it's even possible that she came forward to push suspicion on Erich to protect the real killer. Yes, I'm highly skeptical.

The evidence does point to Erich as the killer. Cindy was pregnant with his baby and his DNA was in her mouth when she died. That provides motive, as well as, puts him at the crime scene shortly before her death. It's also highly circumstantial. Murder in the First is looking more and more as a lesson in jumping to conclusions and making the evidence fit the preferred suspect.

The O.J. Simpson reference was intriguing in that regard. Was it a warning? Or a template to follow? The decision to pick up Erich on Friday night was definitely a move to get the biggest publicity bump out of Erich's arrest as possible. Not a good way to start the case.

If Erich was with Cindy right before her death, that provides motive for her jealous abusive ex-boyfriend or Bill Wilkerson. Jealousy is a powerful motive. And I believe Erich when he says he didn't kill her. Besides, if he's the killer than that makes the whole story make even less sense.

I really enjoy the parts of the episode that relate to the murder case and I could do without most of the rest of it. I hope that changes and the different components of the story get drawn together and have some greater purpose. 

Is there a conspiracy against Erich Blunt?

Carla Day is a staff writer for TV Fanatic. Follow her on Twitter and on Google+.

Tags: Murder in the First, Reviews