I'm still catching my breath from 24: Live Another Day Season 1 Episode 10.
Navarro, Adrian, the Chinese, the Russians. Jack Bauer certainly has his hands full trying to save the world. 
During this hour, I found myself contemplating a 24 drinking game. If I took a drink every time Jack said Damn It!, ordered someone to, Do it Now! or Out of the Way! I don't think I'd be sober enough to write this review.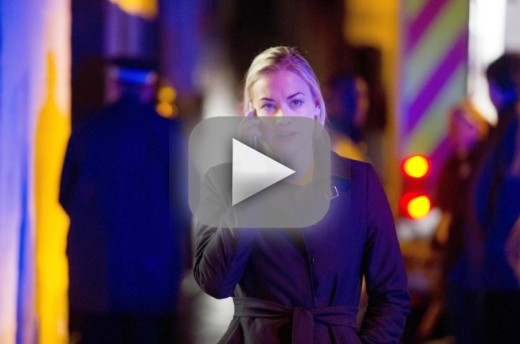 But I digress. So much happened this hour it was hard to keep it all straight. 
Let's start with Navarro. I couldn't help but be happy when Adrian hung the little weasel out to dry. Even better was Jack and Kate teaming up to break him. 
And was it just me, or didn't President Heller tell Erik to give Jack anything he needed to break Navarro? I couldn't help but smile when Jack listened to all of Eric's concerns and then told him in this 24: Live Another Day quote…
Just so we're clear, I wasn't asking. That was me being courteous.


Jack
Kate was the one person Navarro feared even more than Jack - and I couldn't really blame him. Kate Morgan would have gladly killed him and suffered the consequences if the entire world wasn't on the brink of destruction. 

If anyone could understand Kate's feelings of guilt over her husband's death, it's Jack. The man's been through hell and back more than once and knows first hand that revenge only makes it worse. 

If only Mark Boudreau had learned that lesson. After his fight with Audrey, he decided to let the Russians know where they could pick up Jack. As if it weren't hard enough already to try to save the world. Unfortunately, Mark made that call before he realized that Jack was the man in charge of finding that override device. Oops.

I'm afraid that once Mark let that domino fall, there was no going back. 

If he thought that Audrey wasn't going to forgive him before, this may end her feelings of commitment to her marriage all together. 

But poor Chloe may have gotten the worst of the hour. First, everything she believed about Adrian's ideals were crushed when she found out how he intended to use the override device. Then she learned he'd been hiding the truth about the death of her husband and son only to then have to watch Adrian be killed moments later. 

As if that weren't enough, Chloe now carries the guilt for being manipulated by Adrian and playing a role in the possible start of World War III.

I'd say she's having a pretty bad day. 

So you tell us, TV Fanatics, should Erik have stood in Jack's way when it came to interrogating Navarro?

C. Orlando is a TV Fanatic Staff Writer. Follow her on Twitter.

Tags: 24: Live Another Day, Reviews
Want more 24: Live Another Day?
Sign up for our daily newsletter and receive the latest tv news delivered to your inbox for free!
More From TV Fanatic
On tonight's The Bridge, Marco is made an offer that he initially refuses. Will he agree to go after Fausto?
Things go from bad to worse for Molly on Extant as she tries to escape the prying eyes of the ISEA but chooses the worst place for safety. Read on for a full review.
Mike is on a war path, but is he headed in the right direction? Read our Graceland review of "Los Malos" now to find out!
Rachel tells Mike about the kiss as Mike struggles to pick up the pieces after his firing. Read our Suits review of "We're Done" now to find out what went down.
---