Like Mary Queen of Scots, at the heart of it all, Adelaide Kane is still a girl.
A girl who has taken a liking to the personal hygiene of Mary's time as well the fashions that have been created for Mary to walk the castle on Reign Season 2 while worrying a bit about what her character's best friend's baby will mean to Mary's marriage.
There will be plague, power struggles in the wake of Henry's death and a new sparring partner for Catherine by way of a sexy new Lord - and, if Kane has anything to say about it, possible flirtations involving Mary.
We spoke to the actress at Comic-Con last week and asked her all about what fans can expect from Mary and company this fall: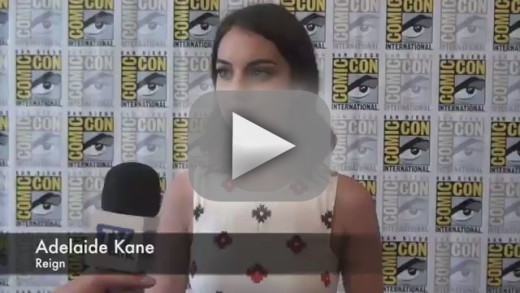 Need to catch up prior to the October 2 premiere? You can always watch Reign online via TV Fanatic.

Mary isn't, overall, a fan of sleeves. This gown proves she can pull them off without worrying whether they will age her, as they still show off some skin with the mesh inlay. The rose and gold brocade fabric is perfect for a picnic, as it sets her out like a flower against the foliage.

Carissa Pavlica is the managing editor and staff writer for TV Fanatic. Follow her on Twitter and on Google+.

Tags: Reign, Exclusives, Interviews, Comic-Con