Attention, AMC fans: before you call Saul, you may wanna break bad all over again.
The network announced today that it will re-air ALL OF the greatest show in television history this summer.
Beginning August 10, Breaking Bad will air each Sunday night from 5 p.m. to 1 a.m. before concluding on October 5 with the series finale.
The Emmy-winning episodes will also feature never-before-seen interviews with the cast and crew, along behind-the-scenes footage and commentary.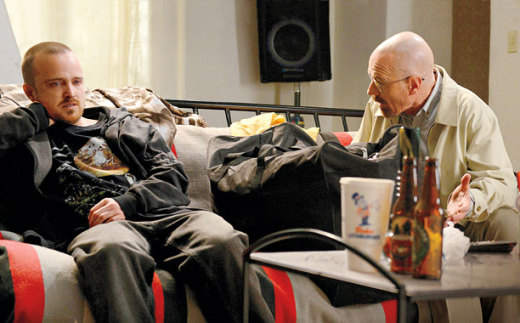 AMC announced a few weeks ago the spinoff Better Call Saul will debut in early 2015, with a second season already ordered for 2016.
Much of Breaking Bad Season 1 was slow and methodical, more a means of laying a foundation for what was to come than a compelling drama in its own right. The pilot, however, set the stage for the journey of Walter White with what is still one of Breaking Bad's finest installments, and not just because it got the show picked up by AMC. From that insane opening scene in the RV to his cancer diagnosis, ride-along with Hank, half-naked cook-a-thon with Pinkman and the confrontation with the dealers that almost got him killed before he even began his rise to power, the transformation of Mr. Chipps into Scarface had begun.