Talk about feels!
For the first time, Chasing Life is firing on all cylinders. With her family in the know, April has a lot more to contend with other than her own feelings about her cancer, and it's overwhelming.
On Chasing Life Season 1 Episode 6, April works hard to find a place where she can feel in control of her future and some level of comfort with the life-altering treatments she's about to undergo.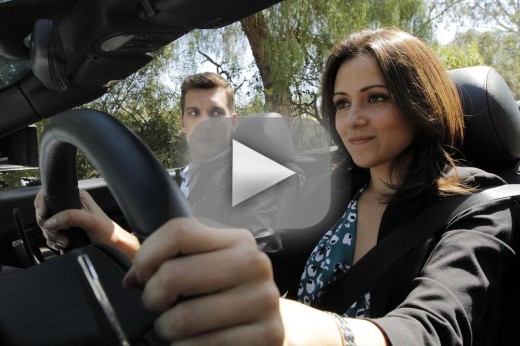 Before we dig into April, let's brush gently on Brenna. I'm not sure why Kieran has turned into such an ass, but he's excess baggage. It's time to let him go. Streak, as well. That's Brenna's so-called friend, with the red streak in her hair. I never caught her name, but after what she did at Greer's she doesn't deserve one.
I'm not sure where they are going with Brenna and Greer and honestly, I hope it's just friends. We really don't need the focus of the story to be about coming out. It would, however, be nice for once if the messed up girl ditched her buddies and fell into a beautiful friendship with the gay girl at school, totally against type.
Being supportive of someone different than you and having a deep and meaningful friendship is, in my world, a lot more mature than jumping into a relationship with them. At their age, one will certainly outlast the other.
Although I understand the need to investigate all members of the family, Brenna's journey seems so far from April's that it's difficult to understand the weight they're giving to it. So let's get back to April, because her arc is really taking shape. 
April's mom wants to be there for April just like April has been there for Sara, especially after the death of her husband. But, she's a mom. She wants her daughter to survive at all costs and if that means holding back information to ensure April starts treatment, that's what she's going to do.
I don't envy George. He's in between two strong women, both of whom he is related to. One is his sister-in-law who has forced him out of their lives for years and into whose good graces he desperately wants to be and the other is his niece and patient. I don't blame him for caving a bit and sharing information with Sara, especially after April walked out of his office to avoid information, apparently alright with Sara receiving it in her stead.
Thus Sara embarks on a fact finding mission -- how does she create a sterile, yet serene environment for her daughter while not letting on that the treatments she's about to receive will potentially leave her unable to have children? How indeed.
I mean I love food, I always have. But not being able to find pleasure in something I love so much is just really sad. It's like everything that makes my life full is just starting to slip away.

April
April's symptoms are starting to take their toll on her. The more she has, the more she realizes that she's dealing with something enormous. It's easy to put the idea you're sick out of your mind when you feel fine or have the occasional nosebleed. When you're always tired and lose interest in your favorite things, it's difficult to escape what's happening to you.
It's also really hard for those around you to understand exactly what you're going through. Intellectually, Sara understands that April has cancer, but she doesn't know what it's doing to her. Unless April opens up with her family like she does in group, they may never fully comprehend what's going on.
When my father had cancer, it was easy to try to make him eat because it was good for him. But when he turned down a beer -- the varieties of microbrews, in particular, always delighted him -- it hit me that he was really sick. He didn't have to say the words that time, my dad never turned down a beer tasting. Until he had cancer.
Right now there is only one person who fully comprehends what's going on with April and that's Leo Hendrie. He doesn't always say what he feels, but the more we know of him, the easier it is to read him. Regardless of his laissez-faire attitude, he's in a lot of pain. 
It's liberating. I don't have to worry about what my life is going to be like down the line; there is no down the line for me!

Leo
Leo tries to portray himself as committed to living life to the fullest, but knowing you only have three or four months left isn't easy for someone his age. He's full of life. He lived in Paris, worked in a bakery and used to watch the stars from his roof at night. Being contained at his parents' house while his father is rolling full bore with a gubernatorial campaign is hardly stress-free living. At least he's trying.

When Leo heard April in group talking about losing herself to the cancer, he set up a personal interview during a commercial his father was shooting and then grabbed her for a thrilling day of letting cancer be your guide. When you have cancer, he figures, it's like a get out of jail free card. Of course, his father running for governor doesn't hurt. 

April finally got to laugh and be free, doing something she'll likely never do again. She also discovered that she'll likely never have her own children and that Leo is terminal. It was a hell of a day, if eye opening.

April returned home to her world in chaos. Sara threw away her waffles in order to live in an organic household and "sterilized" her room by wrapping everything in plastic, removing her rug and her mattress. Lucky April can suffer through the pain of chemotherapy on an air mattress. Yes, Sara has gone overboard. 

April's decision, however, is to put off treatment until she consults with a fertility doctor. It's her right to do that and it's a wise decision. She's not ignoring her situation, but dealing with it head on and making sure she covers all angles before committing to the next step. 

Taking control of her life is what will get April through the harrowing times ahead. If she can just find a way to share what she does in group with her mom, they might be able to do it together.

If you've missed any of April's journey so far, you can watch Chasing Life online via TV Fanatic.

What should Sara do?

Carissa Pavlica is the managing editor and staff writer for TV Fanatic. Follow her on Twitter and on Google+.

Tags: Chasing Life, Reviews