How is it possible that Javier successfully led the Los Angelicos for decades and now all of a sudden everything is going wrong?
The only explanation for this shift in circumstances is that he wants to leave the criminal life behind and go legit. While I guess that's plausible, I'm having a difficult time believing that a man who had the foresight to plan Daniel and Ryan's futures as he did, would be so reckless to get into his current bind.
On Gang Related Season 1 Episode 7, Javier's plan to free his family hit a snag and he was forced into action to save his son, Daniel.
Ryan stepped up with a scheme to steal the fishcale back from the police to guarantee the money necessary to save Daniel's life.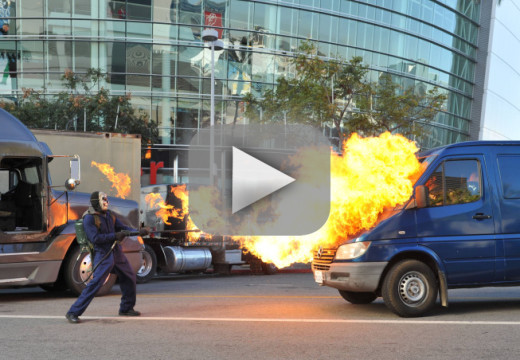 While Javier's actions dumbfound me, Ryan's ability to play both sides while generally "doing the right" thing is impressive. Of course, Ryan tried to have Carlos killed, but he did it out of the greater good for his family and society. He didn't succeed, but Carlos' actions since his shooting have shown how right Ryan was to take action against Javier's eldest son.

In this situation, Ryan offered to help as long as everyone agreed to follow his lead and that killing was not an option. He's stuck between two worlds with people he cares about on both sides of the law. He didn't  want Cassius shot any more than he wanted Javier's men or Daniel killed.

Ryan's plan didn't go off without a hitch, instead he was put into the difficult position of trying to keep himself free and away from suspicion, while stealing the drugs to save his brother. He's spent years working undercover for Javier and it's all about to come crashing down. 

Ryan's cover isn't safe and it's his own fault as he's pushed to help Javier. He came out of the fishscale operation clean, but it's only a matter of time before his connection to the Acostas is revealed. There are other team members who have questionable connections of their own, which makes it possible he'll be able to find a way around being tagged as the mole.

The car chase was mesmerizing to watch. Instead of hoping the cops caught the perpetrator, I supported Ryan's quest to break free from the pursuit. The writers found an authentic means for Ryan get get free by using his inside information. Even though the rocket launched at the helicopters was a bit absurd, it worked.

Ryan got rid of the drugs in seconds and made his escape. He came through for Javier and for Daniel, though the full cost is still undetermined. Daniel was the son who got out the business and was setting the example of a good non-criminal life. His abduction changed him. Will he turn to the dark side now?

It would be sad to see Daniel go down the criminal path of his father. He's had a charmed life of sorts and with Javier's plan in motion, they could all be free in 18 months. That's of course if they make it through that time without being killed. At the same time, two men were killed in order to save Daniel and that's a tough reality to live with.

Did Ryan do the right thing?

Carla Day is a staff writer for TV Fanatic. Follow her on Twitter and on Google+.

Tags: Gang Related, Reviews