Once Upon a Time Season 4 will feature two huge debuts and one awesome return.
In a sneak peek at the upcoming premiere, which aired today during the show's Comic-Con panel attendees got their first look at Elsa and Anna from Frozen.
They were standing before their parents' graves and Elsa told Anna that she has a big surprise for her prior to her wedding. Hmmm...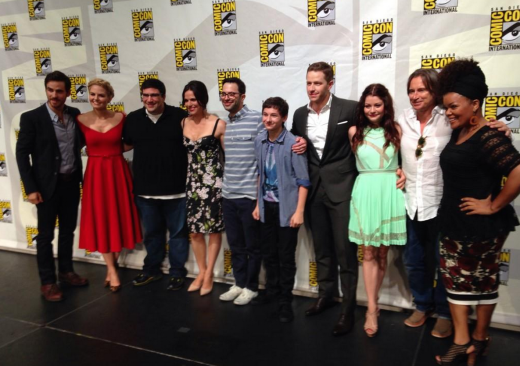 Elsewhere in the footage, Regina consulted an old friend.
"I need my mirror," she said, paying a visit to Giancarlo Esposito's Sidney. "There's someone standing in the way of my happiness. I need your help getting rid of them."
It's safe to assume that Regina needs assistance with Robin Hood's returning Marian... right?
"I think she has something up her sleeve. But is anyone surprised about that one?" star Lana Parrilla laughed. "She's a bit conflicted. She's enjoyed being good [and] light magic. However, old habits die hard."
Among other Once Upon a Time Season 4 spoilers and tidbits revealed during the panel discussion:
Hook will be getting a new look. "It'll be nice to wear something new," Colin O'Donoghue said, noting that Hook's leather coat weighs 50 pounds.
Producer Adam Horowitz promised to "explore the relationship" between Henry and Mr. Gold.
Robert Carlyle teased a dangerous future for Rumple and Belle: "I think the story's got a long way to play. I think this dagger may come back again, and get lost again, and come back again..."
Where do Emma and Regina stand? "It's an impossible situation," Jennifer Morrison said. "I can't apologize for saving a life. Yet I'm horrified that I've gotten in the way of Regina's happiness... It adds a nice element of conflict and concern and generosity."