You'd think Daniel Pierce would get at least a little luck with the ladies.
I mean sure he got "lucky," but he can't seem to catch a break when it comes to the women that walk into his life.
There's Miranda, who broke his heart in Paris on Perception Season 3 Episode 1. There's Natalie, who's his imaginary love. And then this time, there was Josephine, the beautiful "Reclining Muse" that caught Daniel's eye and wound up connected to a murder and art heist.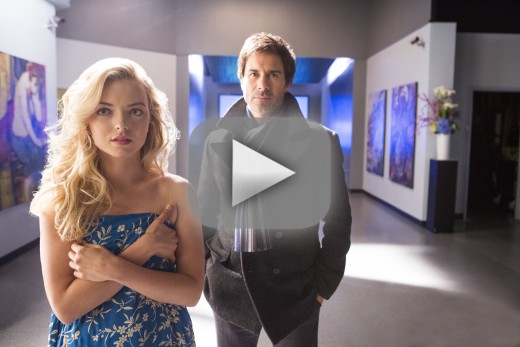 I was so ready for Daniel to embrace getting out into the world and become social beyond just his work. And I really liked Josephine, plus the fact that we got to see a bit of her past, albeit mostly through the hallucination. And did you know the hallucination was played by Clint Eastwood's daughter, Francesca Eastwood?

When Daniel took up the nerve to go to her place, that was a huge step for him. We see him so confident in class, while working a case, that sometimes it's easy to forget how out of place and nervous he becomes in a setting that isn't so familiar. But even so, things seemed to be going well during their conversations about paintings.

Then, BAM! He went in for the kiss and didn't go back to Max until 6 a.m.

It made Paul's need for the details of his new romance that much funnier, in addition to Daniel "firing" his assistant.

So I was disappointed that Daniel had to wind up turning her in to the FBI for her involvement in the case. His immediacy in falling in love and wanting to run away felt rushed, and I kept wondering if he was just tricking her. Still, can you imagine the direction of the show if that did happen, if they ran away together? If Daniel really did fall for her in that short span of time?

But he didn't, and ultimately Perception Season 3 Episode 7 followed its regular pattern of twists and surprises before Daniel and Kate got their man. And woman.

Although, and perhaps because there was such a focus on love, Daniel was far more front and center in the case solving. Kate just seemed to be there, but didn't have as much to contribute. I think Daniel is and should remain the star of the show, but sometimes, it'd be nice to see Kate show off some of her skills and intelligence too.

Also, I was a bit surprised that with all the talk of love, Donnie and Kate's relationship wasn't even touched upon. Maybe it would've bogged everything down, especially with Daniel's major dilemma involving Natalie, but this seemed like a prime topic to include the newly engaged couple.

Certainly, this hour took some major steps with Daniel, but it was quite a big one in letting Natalie go. He really wants to make that move, and going "cold turkey" seemed like the only viable option. And it was a good one, even if it was a sad one.

Break-ups are hard to do. And yes, Natalie was imaginary, but to Daniel that was a built up relationship he had for years that he had to end. It still wound up being the same thing as breaking up with a real person.

Watching Daniel tearfully say goodbye, matched with another amazing lecture closing, was just another great way of seeing how fantastic Eric McCormack is as the schizophrenic doctor. He truly does bring to life the character in a way that makes you care, even if sometimes the case isn't as exciting as you'd like it to be.

That's not to say the art heist case wasn't engaging, it just felt like it was following the typical beats for a crime procedural. But it definitely allowed its overall theme to ring true in those specific character moments.

And it's clear, Perception has been a great vehicle for McCormack to break out beyond his Will & Grace character for another memorable role. He is Daniel Pierce.

Maybe by letting Natalie go, Daniel might have a chance at starting a new relationship. You know, one that doesn't end up with her in handcuffs.

Who do you want to see Daniel in a relationship with?

Sean McKenna is a TV Fanatic Staff Writer. Follow him on Twitter.

Tags: Perception, Reviews