The Devil made her do it, right?
The exorcism, dominatrix and mysterious murder connections may have piqued my interest in Perception Season 3 Episode 4, but it was the way the follow-along case maintained a sense of intrigue amongst the outrageousness - some humorous levity was mixed in and a devilishly good hallucination capped it all off - that made this installment a winner.
Perhaps the next Perception Season 3 episodes might take note?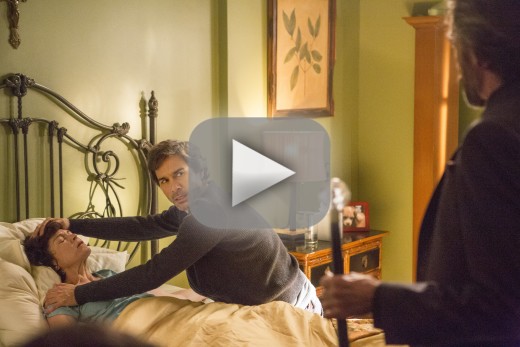 Kicking things off with a woman believed to be possessed who claimed she committed murder was an interesting start, especially because I was nervous the show could go so far off the deep-end with its topic of devils and exorcisms that it would become too unbelievable.

Instead, Daniel was able to figure out that she didn't need the power of Christ to compel her, but rather have a nasty looking tumor removed. And to crack that little puzzle so early on in the case was exciting because it wouldn't be a drawn out discussion of figuring out if she really was possessed or not.

Really, it became this rabbit hole journey of uncovering the dirty secrets of people working to do "good."

And I appreciated that each time the case could have potentially been solved, it took a turn, and not one so out of left field that it just was too much of a stretch. From the alleged affair to the prostitute services to the organization being a front for money laundering and the idealist daughter discovering her family was involved, this was a case that kept things engaging without going over the top.

It could have been so easy to settle the story on a cheating revenge or the husband trying to cover up the truth. So it was a positive turn to feel invested in the direction the final outcome would go.

Was it perhaps a pretty big shock that a mother would kill her own daughter? That would be a definite yes, especially as she was spouting off things about family, etc. But then again, we've all seen truth be stranger than fiction too.

I was pleased though that the interrogation scenes didn't fall upon the pattern that Perception has often maintained in that every suspect cracks and spills every detail. We finally got a lawyer who could keep his clients quiet and pushed back saying the threatening charges that Kate and Donnie tried to pull wouldn't stick. It wasn't so easy for them this go around.

But it was the outstanding and fun performance of John Glover playing the Devil, Daniel's newest hallucination, that added to the investigation. Sure, he kind of spelled things out like a typical hallucination, but there was such a presence, entertainingly playful and charismatic that made Glover stand out.

And his tricks with the chess game or jokes about lawyers added to that playfully evil personality. And did anyone notice the sort of angel on one shoulder, devil on the other before Daniel "signed" the contract? Granted, his excuse that it wasn't really the Devil made his interactions even funnier.

If only this hallucination would stick around for a few more episodes.

And where Perception also thrives is the upbeat and lighter aspects while the serious case is going on, and Max challenging Daniel to a chess battle fit right in. From the "trash talking" to victory dance, it was a brief, necessary, and ultimately positive bit in between things, all while finding a way to also connect to the characters and the bigger story. And I was glad Max didn't actually cheat, it was just the Devil playing his tricks.

I was indifferent about Kate and Donnie's wedding conundrum, though I was glad Donnie was perfectly fine with switching it up because of Kate's mistake. It kind of slowed things down (and I was hoping we'd get to see Dan Lauria return as her father), before neatly and perhaps too efficiently fixing things.

Are we going to wait all season for the wedding to happen? Will it even happen or was this just a sign of more issues to come? I like the too together, but it was far less entertaining that everything else going on.

Of course, using Daniel's class lectures to book-end the hour (still some of the best moments of the series itself) wrapped things up nicely for the story, the characters, and the specific tale and lesson of the week.

This particular hour found a way to mix the lighthearted summer fare with an interesting case that wasn't too elaborately wild, all while giving Daniel and his hallucination the spotlight to shine and solve the crime.

Definitely one of my favorites for Perception Season 3 so far.

Will Donnie and Kate actually get married again?

Sean McKenna is a TV Fanatic Staff Writer. Follow him on Twitter.

Tags: Perception, Reviews