It was the start of the reunion show on The Real Housewives of New York City Season 6 Episode 21, as the ladies took their places on the sofa next to Andy Cohen. We recap the bad dialogue and delusional drama in our +/- review...
We started out with Kristen showing off her boob job. It was an anniversary present. Our question is, was it for her or Josh? 
But let's face it, there's probably more fake boobs on that stage than real ones so no one on the sofa batted an eye.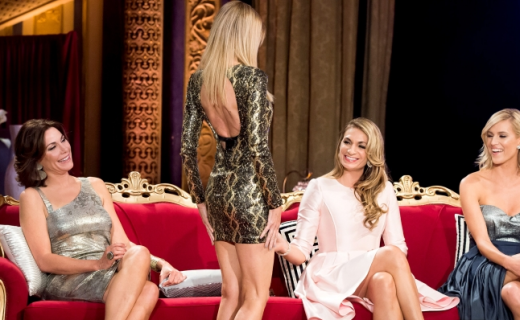 We quickly moved on to Carole showing off her great ass. Her words (via her tagline) not ours but the photo does tend to rule in her favor. Plus 15.

I never quite realized how vocal Kristen was this season until they played back those clips. Plus 10. You go girl. 

Unfortunately we had to revisit the whole Ramona throwing a glass at Kristen thing again. Minus 22. 

Although Ramona wanted to be clear. It wasn't a glass. It was hard plastic and she wasn't actually aiming for Kristen's face. That's just what she hit. Minus 30.  If she wasn't aiming for her face, what was she aiming to hit? The rest of Kristen's body was underwater.

Love the placement of the ladies on the sofa. There's the normal side with LuAnn, Carole, Heather, and Kristen and then there's the -did they take their medication today- crazy side with Ramona, Sonja, and Aviva. 

Andy barely touched upon the Ramona / Mario split which Ramona quickly sidestepped and from the promos looks as though she's refusing to answer on camera. Minus 44. When you sign the contract to be on reality TV and you cash their paycheck, Andy Cohen expects answers. We'll see if he gets them next week.

On to Aviva. A viewer asked about her father and just the mere mention of his name makes me nauseous. Minus 50. Aviva says her father's vulgar behavior embarrasses her…yet she had no trouble bringing him onboard the show for all the world to see. 

Most sane people try to hide their embarrassingly offensive relatives. Aviva invites hers on national television.

Aviva had that evil smile on her face for most of the hour. It really is creepy. 

Season 6: "When people tell me I'm fake, I know they're just pulling my leg." Looks like someone pulled a little too hard this time because Aviva's fake leg ended up in the middle of the room, without Aviva! Thankfully, the high heel was still attached.

Loved the clips of Aviva spreading gossip the entire season with her, "the word on the street." Plus 18 to Carole for calling her out on it. "There is no word. There is no street. It is like dialogue from a bad cop movie she once saw."

Then there was Aviva's big bag of crazy. In it she carried around all of her prescriptions (of which there were plenty), her inhaler, her inhaled medication, and her x-rays. That's not even including an extra legs she keeps handy to throw when the mood strikes. 

Moving on to Sonja…we have one question. Where are the toaster ovens?!? We watched an entire season of her designing the greatest oven in the history of toast. Why isn't it in stores? Minus 11. 

When Sonja called herself a "lifestyle expert" and said that she gets emails all the time from people asking her to do a new cream, or jewelry, or wine in a can, I kept waiting for someone to tell her that those aren't called business opportunities…they're spam.

Let's face it, it might not be polite to say to her face but Sonja is delusional. Or as LuAnn put it, "You believe your own crap."  Plus 25.

Episode total = -89! Season total = -536!

So, what do you think TV Fanatics, should Andy make Ramona answer questions about her marriage?

C. Orlando is a TV Fanatic Staff Writer. Follow her on Twitter.

Tags: The Real Housewives of New York City, Reviews, Reality TV