Will Jamal be forced into following in his father's tyrant footsteps? Or will Bassam help his brother find a new way to rule the country?
Since becoming President, Jamal as been highly receptive to his brother's recommendations, despite his uncle's old school militant ways.
On Tyrant Season 1 Episode 4, Jamal faced his biggest challenge to his presidency and greatest threat to the country's peace on the 20th anniversary of his father's chemical attack which killed 20,000 people.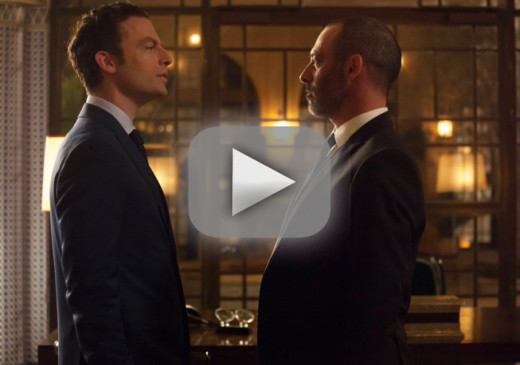 Jamal listened to his brother and released the wrongly imprisoned rebels, including Ihab Rashid. That decision didn't stop Rashid from continuing his fight against the Al-Fayeed family and for freedom. The protest at the plaza was peaceful, but it was an eye-sore for the country and would empower other residents to stand up against the regime as well.

I'm impressed with Molly's resolve to stay in Abuddin, instead of fleeing back to her peaceful, worry-free life in California. She has a better grip on what's going on than perhaps even her husband. She encouraged him to realize that change wouldn't come overnight and that he would have to make incremental changes.

I loved Molly's insight that every step closer to trust was a win. 

After the failed attempt to speak at the plaza, Jamal reverted to the old Al-Fayeed ways and wanted a quick resolution to the plaza protests. He didn't necessarily want people to be killed, but he understood that if his uncle cleared out the plaza, people would die. The idea of a blood bath didn't appeal to Jamal, but he didn't see any alternative.

Bassam used fear to get his brother to consider another option. Jamal didn't want to end up like Gaddafi, so he listened. Bassam believed that the people's complaints were justified and that perhaps there could be a compromise. I wonder if his friend wasn't in the plaza protesting wiht his daughter, if Bassam would have taken the same path? 

He probably would, but he needed the reminder that Fauzi gave him. Why wasn't Bassam in the plaza protesting with them? Ultimately, Bassam can do more good for their cause by counseling his brother than if he took a public stand though. Bassam took a huge risk for him, his family and the country by recommending that Jamal meet with Ihab Rashid.

That meeting could be the first step to a better Abaddin or it could lead to further protests and discontent. For Bassam's sake and that of his family, it really needs to go well. The problem will be if the General interferes or if Jamal overreacts to the demands.

I'm enjoying the political aspects of Tyrant and the relationships between the adult Al-Fayeeds, but I haven't really felt engrossed by the stories of their kids. The club party showcased some of the decadence that Jamal's son is used to, while introducing that lifestyle to the American Al-Fayeed kids. 

Emma's finally had enough and wants to go home, while Sammy's consumed by his attraction to Abdul. As their father gets more and more involved in the politics of the country, it will be intriguing to see how they react, if at all. And could either of them decide to follow in their father's footsteps and work to better Abuddin.

Should Jamal meet with Ihab Rashid?

Carla Day is a staff writer for TV Fanatic. Follow her on Twitter and on Google+.

Tags: Tyrant, Reviews