It's easy to find a certain fun in Daniel solving cases and the collection of hallucinations that aid him along that path. Joan of Arc? The devil? What creative vision will appear next?
And yet, it's easy to forget that Daniel's schizophrenia, which causes him to hallucinate, also can make him paranoid. He has a brain disorder, and one that could cause the brilliant mind to unravel.
We've seen it happen before in Perception Season 1 Episode 9 and Perception Season 1 Episode 10. So to listen to Daniel lecture on the past repeating itself makes you wonder if he's headed for another breakdown.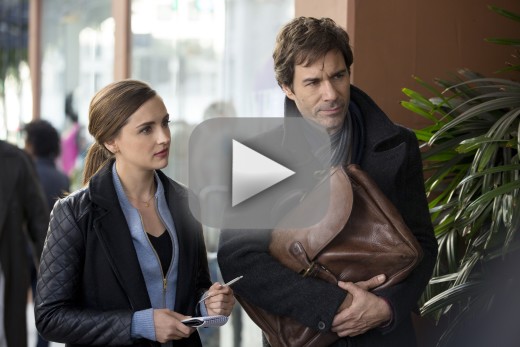 After all, the resurgence of a case from the past seemed to have a negative effect on the doctor. Not only was he seeing a junkie version of himself (an unrecognizable Eric McCormack), but his rantings and speed talking seemed more frantic and less composed than he is during his classroom teachings.

Even seeing those flashback sequences of how the disorder can negatively impact Daniel, causing him to almost attack his best friend, have to be restrained, and the sheer look of terror that someone might be after him.

And in a way someone was after him through the elaborate plan that Dr. Rosenthal was indeed the serial killer. I loved listening to Daniel's rantings and theories about his therapist being the murderer, but for it to actually be true?

Yay for Daniel, but it felt so forced of an outcome. I kept hoping they weren't going to say Dr. Rosenthal, but they did. I guess at least Daniel had the glasses on to show the FBI what was going on, but still, it just felt too easy.

Even the journal detailing everything and basically wrapping up the entire case in a neat bow seemed a bit ridiculous.

At the same time, even with Daniel solving the case, it didn't detract from the fact that his paranoia was escalating. Just seeing Paul watch in on a pensive Daniel made me worried we just may see Daniel fall apart again.

But at least he has friends who can watch out for him because there is something true about many with disorders and brain problems that do fall through the cracks and don't get the help they need.

Daniel has people around him, and while some might trick him into eating grapefruit that isn't organic (love that scene between Max and Daniel), there is that care and concern we've seen throughout the three seasons.

And it was nice getting to see the budding relationship of Max and Daniel. Something good came out of something not so good, and I'm glad Max has stuck by Daniel.

As for Donnie? Is he destined to cheat again? Will he fall in that trap with the pretty blonde?

It's certainly not a surprise that things are going south for the Donnie and Kate relationship, and I'm sure by the summer finale, that confrontation will be front and center.

The Perception Season 3 Episode 8 case was a bit disappointing in its final reveal, but seeing Daniel's paranoia and schizophrenia front and center, while giving us a look into the past and a hint at the future, were the most interesting parts of the hour. And like always, Eric McCormack makes Daniel worth watching.

Will Donnie cheat on Kate?

Sean McKenna is a TV Fanatic Staff Writer. Follow him on Twitter.

Tags: Perception, Reviews