Even more than in Ray Donovan Season 1, the series now seems to be about marriage as much as it is the business Ray is in.
We got a better look at Ed Cochran in Ray Donovan Season 2 Episode 4. Despite his rather jovial exterior, he's ruthless both in business and his marriage.
Honestly, he's starting to make Ray look like a pussycat, and that's not easy to do.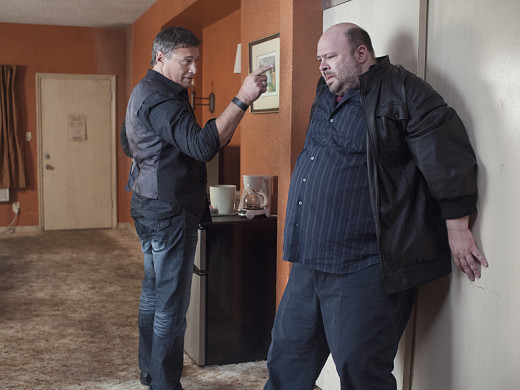 The problems between Ray and Abby are far deeper than what he went through with the priest. Ray had absolutely no problem looking into Kate's eyes and making love to her. He was not just screwing her. That became even more evident when he asked to see her again. 

When Kate turned Ray down, he immediately made a call to Deb to get the house for Abby. When Abby learns that he put a bid in on the house, she enters the shower with him to pleasure him, but Ray doesn't have time. Ray is gloriously conflicted and I would love to introduce him to Neil Truman on Satisfaction. 

Watching Satisfaction has really clued me into these horrible choices people make in their wedded lives. Is anyone really happy or do we just get the impression they are? 

Sully's partner-in-crime Tiny was still in Los Angeles and when he was caught shoplifting, he started spouting off about being on the dock the night Sully was killed. Ray doesn't like what Ed implies by saying he'll take care of it. Ray even asks Ed not to kill Tiny because he'll get him out of the country.

It turns out that Ed is far more vicious than Ray. Frank is in so deep at this point that he's just doing whatever Ed wants. He kills Tiny and makes quite a mess of it, even shooting an innocent bystander who got crushed under Tiny when he plunged down the stairs after being shot.

Ed's lack of morality is shown in great detail when he receives the news of what Frank did and immediately turned around and lavishly grabbed his dinner guest's breast, cupping it in his hand slowly and without any regret. The way he's always singing classic rock songs only adds to his ugliness. 

Ray has definitely met his match with Ed. He's doing whatever he can to protect people from Ed's wrath. He tried to kill two birds with one stone trying to keep Kate safe after Mickey called her to offer up his true story about the night Sully was killed. Ed's not going to let anyone take away from what the FBI did and his crawl to the big leagues.

Ray probably kept Kate safe, but it didn't work with Mickey. Will the old man at Mick's apartment take the tape Mickey was preparing to send to Kate? What is Ed going to do to Mickey? Maybe Ray was fine with Ed taking Mickey. I guess we'll find out.

Meanwhile, the closer Ray gets to Kate, the less interested he is in Abby. Did he buy her the house for any reason other than to occupy her time so he could carry on as he wishes? 

With everyone's hands so dirty, what will Abby's being involved with an LAPD detective mean? Is he getting close to her because he's into her or to get some information on Ray and everyone associated with him? It's impossible to know at this point, but it doesn't look good.

When we started the season, it seemed like Ray might try to save himself. Now he's just going on his gut. He knew Frank was going to kill Tiny, but couldn't stop him. Giving Tiny a great meal before he left the world was the best he could do. He appears to have given up on saving his marriage, rather choosing to keep Abby as happy as she can be in a marriage he's no longer interested in participating in. 

It would be interesting to see him choose to leave Abby, care for her and the kids and take up with someone like Kate. It's hard to watch two people so obviously lost try to stay connected. At least on Satisfaction we know one person in the relationship is genuinely trying to save it, despite the bad choices they make. With Ray and Abby it almost feels like they don't want to get rid of their favorite old coat, even if they don't want to wear it anymore.

As much as they are trying to keep the extended family on the canvas, until they make some adjustments, it's kind of difficult to care about Bunchy and Terry. Their stories are too extraneous at the moment. Maybe Ed will drag the entire family into the scope of the larger picture.

Do you have any thoughts on Ray Donovan Season 2? Do you think Ray and Abby will go the distance in their marriage? Do you think they should even try at this point? Hit the comments and we can chat.

Will Ray and Abby go the distance?

Carissa Pavlica is the managing editor and staff writer for TV Fanatic. Follow her on Twitter and on Google+.

Tags: Ray Donovan, Reviews