Well, that was something, right?
While the series has always bobbed around the sexual element, Ray Donovan Season 2 Episode 6 bordered on soft-core porn. I suppose that's what Ray was watching on his own private line into Tommy Volcheck's living room.
Ed doesn't just lust after Volcheck's wife. He engages in sex with her in front of Volcheck and Holly. The other two are supposed to be engaging in their own good time, but it appears Volcheck doesn't find the frumpy Donna sexually titillating.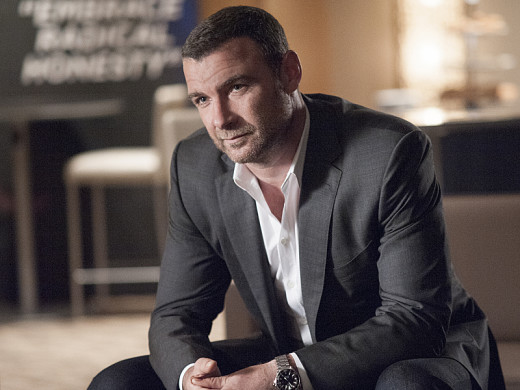 With all the crazy stuff that has gone down this season, there was a lot in this hour that I just didn't expect.

Ashley is a one nutso chick. She calls Ray for help with her new man, one who is going to leave his wife for her and still winds up in Ray's bed in the end. I do like her new haircut, though, She looks a bit more mature and sophisticated.

Everyone was toying with relationships. Abby was moving forward with Jim just as Ray turned his own corner after listening to Steve Knight's self-help mumbo jumbo, grasping onto the idea of letting go of the past and using "radical honesty" in his relationship with his wife -- ironically the one thing Abby has really desired from her husband.

Like so many other TV characters, Ray made a decision about Abby, it fell through and within no time he was with another woman to take away his pain. Can't they try drugs or something? A little booze? God forbid they attempt something positive. Why always sex to make them feel better when their ego is crushed?

I suppose I can see the appeal to be wanted when you don't feel so, but it must get old to constantly be lying to your significant other, trying to cover your actions and make up for your faults. 

Terry asked Frances to marry him and flee to Ireland. I don't understand their relationship at all. Frances can barely stand to look at him one moment and then is in his bed the next. Yet she can't reconcile what his family did to that priest, even if he was a serial rapist. 

Terry's decision to sell Fite Club really put a kink into Ray's plans for the house and anything else, really. Financially, he needs a business to launder his money. 

And OMG -- poor Bunchy! Pop goes the weasel indeed! He finally got up the courage to take the Viagra so he could make love to Patty and her son Cliff came home. Watching the little one put his head onto Bunchy's lap was not only uncomfortable, but made me think she's going to think his boner is from being near Cliff! Oh to even be accused of that will kill Bunch, especially when it's not at all what he was thinking (surprisingly).

It's difficult not to feel for Volcheck, knowing he and his wife are on camera with Ray watching while they have the sex with the Cochrans. I say "the sex" to make it sound as gross as it was. I do not envy Tom Volcheck one darn bit.

Mickey's storyline is kind of taking a back seat dramatically, but he's very entertaining. Who didn't love when his cancer friend (does the guy have a name?) got down on bended knee to ask him to marry him? They way they rolled around laughing was cute for couple of old coots.

The entire bunch is fighting for their lives, just like Steve Knight suggests, but they aren't doing a very good job. If you had to guess, which will come out on top? It seems a foregone conclusion that Ray will manage to do some harm to Ed's future, but will he pay a price for doing it?

Carissa Pavlica is the managing editor and staff writer for TV Fanatic. Follow her on Twitter and on Google+.

Tags: Ray Donovan, Reviews