Started from the bottom, now we're here.
It appears that HankMed is at the top of its game, and Boris solidified it by not only purchasing Hampton's Heritage from Symphony Health Systems and asking them to serve on the hospital's Board of Directors.
And for that reason, Royal Pains Season 6 Episode 12 was an unexpectedly big deal - and one Hank wasn't willing to make.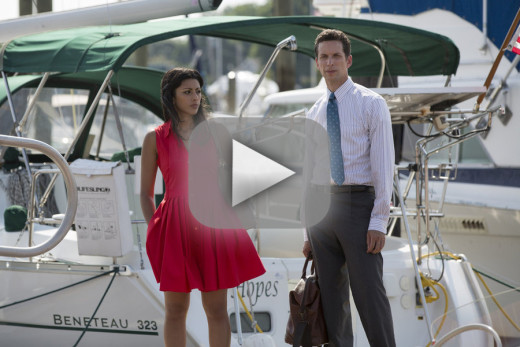 But should we really be surprised that Hank said no? It was a Board of Directors that almost cost a young boy his life in the Royal Pains pilot.

That wasn't an easy connection to put together, so if there are any more relevant reasons as to why he rejected Boris' offer almost six years later, I am open to suggestions.

Thankfully, this offer means that HankMed will likely have access to the lab facilities it needs now that Boris has purchased the hospital, ending their partnership woes and allowing the concierge service to survive another season.

However, while we wait to find out why Hank rejected the offer, we'll also wonder what happened to Emma.

Yes, it appears Emma is on the lam in her shiny new ride and is not picking up her phone. Is it out of guilt for all the drama she caused since her arrival. Paige and Evan not only followed Emma, but helped her unmask her harasser.

The truth is finally out, and it turns out that Parker is the all powerful and mysterious Oz. Parker tried to get her mom to pay more and quality attention to her, creating SnarkHampton to do it. I have to say, she covered her tracks pretty well by implicating her brother in scandalous activity.

But was anyone else more suspicious of Cinco? 

On the Sacdare front - and in case you missed it, this is what all the cool kids are calling the relationship between Jeremiah Sacani and Divya Katdare - it seems their relationship is poised to grow stronger than it was before. And the best part is those aren't my words, they're Jeremiah's. Stay tuned, my friends.

So, Hamptonites, about that bombshell: Did you think Parker was Oz?

C. Charles is a TV Fanatic Staff Writer. Follow her on Twitter.

Tags: Royal Pains, Reviews