Episode Guide
Eph and Nora fight to save Captain Redfern's life on this episode of The Strain. Elsewhere, Setrakian starts his own merciless plan to stop the spread of the disease.
Charlie and Abby Isaacs arrive at an unknown destination in New Mexico to start a new life.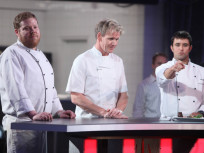 On the Hell's Kitchen season 12 finale, the final two contestants each create five unique dishes and then prepare menus
When Ryan arrests Javier it proves who he is loyal to on Gang Related. "El Buey y El Alacran" is the tenth episode of the show's first season.
Neil is encouraged to pursue his secret life while Grace finds it difficult to re-enter the working world on Satisfaction.
It's Isaac's birthday and Kailyn invites Jo and Vee to the party while Chelsea moves into her new home on Teen Mom 2.
When Mike and Briggs think the Solano case has been sabotaged, they do whatever is necessary to track down Paige on Graceland.
Sean Cahill calls Logan Sanders into the SEC for questioning just as Harvey tries to end the takeover on Suits.
Eva and Linder reunite while while Sonya and Marco search for Eleanor on The Bridge.
Molly decides she has to tell John about her pregnancy when he calls her on being so distant on Extant.