Episode Guide
SAMCRO asks for the help from another Charter to get a messy job done on this Sons of Anarchy episode.
We pick up 10 days after Tara's gruesome death on the Season 7 premiere of Sons of Anarchy.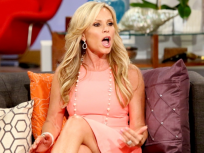 It's Tamra versus Vicki and the gloves come off on part 2 of the Reunion of The Real Housewives of Orange County.
Kim and Kanye take their friends and family from Paris to Italy on the days leading up to their wedding on Keeping Up with the Kardashians.
The ladies continue to bicker and debate on part two of the Love & Hip Hop: Atlanta reunion.
Tensions rise as Joss' engagement party approaches, April relies on Daniel and Karen awaits her HIV test results on Mistresses.
Elena has an all out showdown when she confronts the Ewings and a new battle emerges when Nicolas' schemes to steal Ewing Global on Dallas
Scott faces a battle with an old enemy on Teen Wolf.
Climate change threatens Chester's Mills while Big Jim learns the shocking truth about what happened to his wife on Under the Dome.
A betrayed bachelorette looks to another man while two new bachelors arrive on the scene on Bachelor in Paradise.