Amie Forum Posts
NAh, by this time I only believe in them as friends....or rather just the only two bearabe characters left in this shitty show....Stefan is the best when he is not in Elena land and Caroline is great when she knows how much she is worth.....however any little shift they writers do away from the praise Elena campaign, say when JP is out to get more donuts...when she comes back and sees that - she amkes them all go back to square one - I mean how pathetic was is that one episode Stefan was all "you don;t know how I look when I am not in love with you"and the next he is calling Elena a friend....LOL kill me now. 
Anyway, like I said a million times before these two have great potential together as just two awesome friends, hence I still hope for them moving to the spin-off...yet I know that THAT will never happen...just like Elena getting a fashion sense or a personality...Matt getting a storyline..or Bonnie getting a love interest for more than 3 minutes.
Will always love their scenes though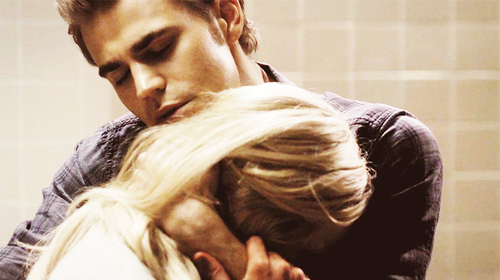 But unfortunately everything has to revolve around this "beauty"
Do you guys think the Silas plot will be resolved this season? 
LOL, who? 
You I ain't dumb, but I JUST DON"t Get IT! Because this season especially, seems to have so many things that are logic fails, cos it contrudicts so much of s1....like back when we met the brothers in s1 the general vibe I got from them was that Damon was soooo ready to rip Stefan appart.....and then cut to what we saw in Bourbon Street episode - Damon caring about Stefan and even trhowing the sob " he is my brother" line.....so what the hell happened then back in the 90's (since that is apparently the last time they met before the pilot)...which made it look like Damon still holds a HUGE grudge against his brother.
Same here with Lexi, if something occured between Lexi and Damon - then why did she feel like killing him in s1? Because Lexi came off a very huge anti-Damon fan.....
Ugh, i mean, yeah, given how Elena's parents' death story varies from s1 and s3...I should not be surprised but still I just want to choke these writers. 
I can't even decide what will be more gross - to find out Dexi happened or that Elena will be mouth attacking Elijah.
I have always been curious to see Elijah and Caroline scenes. He's the only O who hasn't acknowledged Nik pining for dis hoe
Me 2.
Also Elena and Elijah....too grossed out to even think what is coming up for those twew!
My reaction to TV-Show bella swan wanting revenge against her evil-bella-swan-twin...
LOL, yeah tv Elena at this point is like book Caroline in book 1 & 2...like srsly as I watched the last episode I was getting that familiar annoying vibe from the book character of Caroine..but at least Caroline being a bitch and annoying was understandable and well-written out...here it looked like suddenly Elena (while claiming not to care) started "getting back" at everyone for yeah,what? Anyway, yeah, book Elena's hate and want for revenge was so true to her character when she was human and it intensified when she was a vampire - brilliant, simple and accurate - no need for lame party scenes and cheerleading competitions. 
To be honest i kinda hope that Car's mom dies in some way Elena related so she'll wise up and leave the bitch alone.
Well, said it before and will say it again,. I am still betting on Caroline's mom dying and at the hands of Elena - that would devistate Caroline and tbh that is the only way I see her surviving as a character on this show next season because if she looses her mom, yes it will be tragic, I get that - but maybe finally Caroline will quit her SE appreciation club and be sort of a wild card next season...or that is just what I want because I don;t to see yet another season of Caroline being just the who wants everyone to live all happy and bubbly. Its time for a change...or some change.
Welcome to my crib stuff lol.
Bingo! Oh crap that just reminded me of the art metaphor Klaus told Faye Hayely about....lol, thought he was gonna break into Janet Jackson's Control any moment there
 Elena wants revenge
Oh LOLOLOLOLOLOLOLOLOL....at whatever Elena has in mind with regards to Kat.....
Anyway, can't wait for either Kat or Becks punch the crap out of this dull (dyed) dishwasher
Guys where is this from? I haven't seen the video.   
Oh this is somewhere from s3 when Klaus got the house renovated....saw this somewhere, maybe even on wetpaint, JoMo had a lil tour.
,I'm just soo tired of Tyler
Preach...I don't get why they still want us to care about him.