Amie Forum Posts
Ok, I liked two things last night
1. Bonnie used her freak magic to crush Elena's bones and make her suffer, which a scene that deserves a gif so much and is worthy of being rewatched constantly.
2. Out of the 4 ppl Silas was posing as I really have to say only the one with the Salvatore brothers really actually surprised me...I mean their talk felt so natural and so usual bullshit that finding out that Silas posted as both Stefan and Damon was kind of cool.
Klaus wants a family......is all I got form the promo which got me raising my eyebrows....but on the plus side it looks like Elena is getting tortured next week so I guess its ok.
No rest for the weary! Even though Season 4 of The Vampire Diaries has yet to finish filming, showrunner Julie Plec is already hard at work on Season 5.
She tweeted, "Hang in there, TVD cast and crew. 8 shooting days to go. I love you all. (And in related news, today is Day 1 in the writers room for TVDS5)." Then she added, "Starting Season 5 while still shooting S4 is a perfect example of how single, childless, workaholic show-runners like to rob people of joy."
First time I read that last sentence - I read childish....but at least the rob people of joy part is right.
She didn't give any hints as to what she's currently working on, but she did give a bit of Season 4 finale scoop. When a follower asked, "are we gonna see the final ending of the STEDELENA triangle this season," she replied, "an ending, yes, but never the final."
Fuck you!
Finally Ian got a nice haircut, now he does not look like a 165 yearold perv vampire in love with a bitchy garbage can. 
I am sorry I need to go vomit cos Emily is getting....barf....re-engaged....barf....to...barf...Spaniel....
GLENNA!
Some clever soul just wished new Elena death in the prom dress fitting scene with Caroline.... Aw I am so happy to see ppl care about her death as much I do.
My eyes!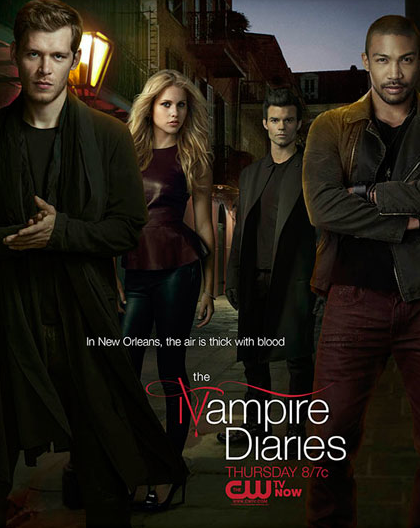 /\ LOLOLOLOL! Love the crazy eyes gif!
Also how creative is the poster for The Originals - fuck getting actors together for a damn photo - just prohoshop them in! Keep up the good work!
Silas is just more hyped since he's 'ancient' and shit, but that actor barely has a history in filmography so it's not unlikely they're covering it up
Gosh, the 'creativity' just kills me - first the Originals, now the ancient man witch dude....facepalm
Also the guy who was cast as Silas....ne me gusta...looks like they did last minute guy of street casting - haven't seen him anywhere.
Want more ?
Sign up for our daily newsletter and receive the latest tv news delivered to your inbox for free!