Elise of the Upper East Side Forum Posts
I'm sorry, but I would never sleep with (or be with) someone my BFF dated/had sex with. In the serena/blair/nate situation, I kind of understand that, but what blair is doing with dan?? ew. I mean in the first few episodes, chuck and nate slept with blair and blair and serena slept with nate (if you count the wedding). Best friends share everything, don't they??
it's just gross how nate and chuck have shared people...they both had sex with raina right? 
and it's gross how serena and blair have slept with the same people! I mean, this show is gross in general in regards to the characters' sex lives, but there should be a line when it comes to BFFs. EW. UGHHHH rant over sorry I just think it's revolting and like nothing I've seen on any other show. 
ya but serena isn't far behind. the only ones she hasn't are the basses. funny how blair started out the virgin and now she's more promiscuous than serena...it's just OOC I think. I can justify chuck (duh!), nate, and maybe 1 other, but she wouldn't be so careless to have 1 night stands w/ carter/jack/etc. It is disgusting.
This show is so gross how everyone has slept with everyone. Lack of creativity on the writer's part (surprise surprise!) and after the first few omg moments where you find out that [one character] had sex with [another character], it doesn't even surprise you anymore because everyone on this show sleeps with everyone else. (I gave up on this aspect of the show when they had a threesome. I'm sorry but ew. what a lame way to try to get viewers. ugh.) It really is gross. It's funny that chuck has 'only' had sex with like 4/5 main characters. That really says something about this show. 
EWWWWWW I hate that they've done this. it's all so incestuous and gross. If 1 character has an STD, they all will. EW EW EW.
I always thought for sure dan/blair and serena/chuck wouldn't do it, but obviously the writers just have no shame. When they run out of options, what are they going to do?? make a character gay?? get the parents involved?? it's just GROSSSSSSSS
plus, I really liked jenny (before she turned into goth hooker barbie) and LOVED eric! It's just not the same show without all of the minor characters. (but even with them, you need good storylines and great acting...It's just so sad how much this show has declined. It really was great a few years ago!) I remember watching season 2 live (I resisted watching GG during S1 because it sounded so vapid but finally watched online over the summer and fell in love!) and getting chills during that opening song...and omg the season 2 finale, I thought it was over and then blair was walking down the street and chuck was there saying ILY!! Great memories :)
liz, i love that pic!! and ya that did really mess up the show for sure!
nah I don't really agree with that b/c blair isn't herself right now. of course I'm not mad at her b/c she's not 'in love' with chuck. I'm mad at her b/c she's been soooooo in love with chuck but changed her mind like 10 times. also, I can't stand her character right now. I've never hated blair before when she hasn't been with chuck, but that's not why I can't stand her now, it's because the person she is lately is the worst!! Of course blair's happiness matters but it seems like thats all she cares about lately. She figures it's better to marry louis because at least he loves her. (how was that fair to louis?!) she loves chuck but after marrying another man she's going to go straight to being with dan. (awful to chuck and to serena)...she isn't thinking about anyone but herself and she's acting like a trashy, brainless, you know what. I'm sick of blair lately and I won't be watching until her character is back because whoever this girl is sucks. 
Blair isn't obligated to love/be with chuck at all. But she should give him enough respect to let him off the hook once and for all (she's been dragging him around for weeks/episodes) and let him move on. telling him to wait for her and be nice to humphrey?! well you know what blair, chuck isn't obligated to love you, wait for you, or do what you say. And I hope he does move on and when you change your mind about who you love in an hour, too bad if he's not 'in love' with you anymore.
hmmm well I don't think it matters that it was without a kiss because they're probably just filming it differently so they can edit it the way they'd like to...ugh I wish they'd tell us when db is going to be over!! 
I love this scene!! C and B are so cute at the end :)
liz, haha I guess on the UES they get it out of their systems in high school and right after they graduate, they act like they're 40 (in some ways haha)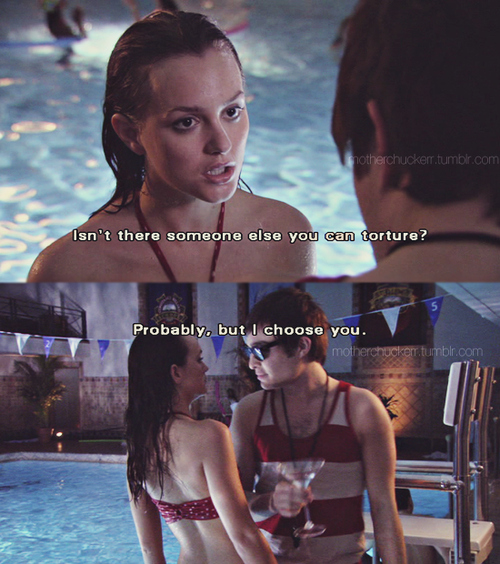 S1 CB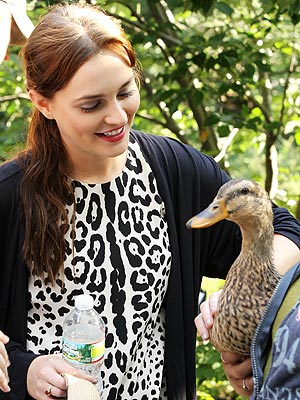 random: blair and chuck with duck!