Shan_gg Forum Posts
I really miss discussions on here btw! Glad you're still here Elise and Theresa, I really wish the others would pop by! Talking about gossip girl is always such a great distraction if you're having a bad day or just if you're bored haha. So much to be raging venting about!
I've never thought of it that way. I definitely see a lot of maturity and good in Chuck in season 5 but also agree that there were problems and lots of it was pretty OOC (by season 5, anything actually in character was extremely rare though so...) And yeah, Blair was 100% completely the worst imo :P ugh.
ha! the thing is, we might be able to interpret and give excuses for their behaviour that makes sense considering their awesome characterizations from the start, but these later writers are SO so goddamn awful its a pretty enormous stretch that they had actually INTENDED for them to be read this way, and not just written them like that because they are in fact SHIT writers with no conception of continuity or actual natural growth and progression. The ridiculously contrived 'blair leans on dan' is NOT growth, it is Blair growing another head and becoming a shell of the person she was. simple as that lol. Blair Waldorf....RELYING on DAN HUMPHREY?? HAHAHA PLEASE. Yes, they tried to sell them as friends, and as obvious as it was, I could accept their friendship on a low level. A LOW level. However tell me please, in what WORLD would she not go to Serena and Chuck. I'd say probably no.1 would be Serena, because she IS always there for her (I'm going by season 1 and 2) and they don't have the volatile nature of CB (s2 im thinking), where there is the risk of him shutting her down at that stage BUT in the season 5 situation Chuck should have and would have realistically been the one she turned to, god ESPECIALLY after the wedding!!! either S or C, they would move mountains for her, and she treats them like dogcrap. There is no excuse for that, none whatsoever and I'll never see her the same.
To me, Blair Waldorf AND gossip girl ends either s2 finale or somewhere in s3, I'll always remember it as its s1 prime because it was fucking AWESOME.
Yeah I mean the only reason Chuck's characterization in S5 didn't bother me so much was because Blair's was so unbelievably out of control horrible. Even if Serena decided to become a nun and Nate got on Columbia's dean's list, I wouldn't have noticed/cared that much because of what was going on with Blair haha. But if I try to just look at Chuck in s5, there are definitely some major issues. No way would he have let Blair delude herself and marry Louis/date Dan EVER. He wouldn't have been so pathetic (sorry but he was at times super pathetic).
He should've been more proactive and determined to help Blair (maybe put her in therapy? idk) and yeah, he wasn't possessive at all. What the heck, this is Chuck and Blair we're talking about!!!
You know, I agree, both characters changed immensly from the beginning and in Blair's case a very very negative way. Chuck too changed so much but you what, on some levels I completely understand why he turned soft. You guys said that he turned pathetic and weak and yes he definitely had his weak moments where he could have done more for sure to attempt to reach Blair. BUT we have to remember that in the first few years of their relationship things were so raw and intense and there were such problems with voicing and embracing their feelings that when they finally did, when Chuck finally said those words, it was like they had embodied some kind of mystic power. They had placed SO much significance on the  words 'I love you' that for a while in Chuck's mind, they seemed to solve everything. He couldn't understand after the hotel incident (NEVER SHOULD HAVE HAPPENED) why expressing his feelings of love didn't automatically resolve their issues, because in his head they embodied EVERYTHING, there was so much weight and value encompassed in those 3 words , it was everything that made them THEM. So IMO, after he realised that those words weren't enough he didn't know what was anymore, in season 5 he opened himself up more than he ever had before because he was so full of desperation, he no longer knew what he could say or do to win Blair back, 'I love you' didn't fix things in the same way as before. Blair was becoming unrecognisable, and making choices she never would have dreamed of before and he didn't understand her. So yea, he became the opposite of what he always was, he knocked down his walls to try and knock down hers, and while it made him seem weak I got why he did it. 
the writers still suck though, Blair is inexcusable 
oh my goooood. I am rewatching season 1, and I'm on Victor Victrola now. It's actually so depressing that it almost HURTS how good every single thing was back here. Chuck and Blair :'(. They are PERFECT. No other word can sum them up more precisely than that. Chuck is GORGEOUS, Blair is absolutely beautiful and its not even then physical side to them that's so different, it's their personalities..... their verbal sparring, their emotional vulnerability that is hidden so well yet visible through their flawless acting performances, their wit, their connection with the other characters in the particular storyline at the time...omg it's just tv gold. 
I actually don't think I can convey in words just how disappointed and upset I am when I go back and see how fantastic Gossip girl used to be. It's almost CRIMINAL how much Safran decimated it. You know, you always underestimate and disregard the standard that it was in your mind until you go back and watch season 1, I can't get over the feels its bringing up!! I care about EVERYTHING when I rewatch this, not just CB but Dan/Serena, even Jenny and Nate and their respective storylines!! It really says something about chair that when you go back and are invested in everything because it's all so engaging and they STILL manage to draw you in that much more than anything else, without even TRYING. 
AHHHHHHHHHHHHHHHHHHHHHHHHHHHHHHHHHHHH I had to let that out haha. total RAGING AT FAILFRAN the fucker lol. I know its not 100% his fault, but I hate him so I'm blaming him anyway. dickhead. and I've gotta say, I LOL'D so hard when I found out his SMASH show he took over is now cancelled and in the trash LOLOLOL. For godsakes if that doesnt say anything about his EMBARRASSINGLY terrible skills as a producer WHAT WILL. 
one of my FAVE school outfits 
blerena, back when they were just such awesome friends and the obvious foundation of the show
AND OF COURSE....
THIS MOMENT AND WHAT IT MEANT = BEST MOMENT OF GG
omg lol they are just so hot together
hey Elise  nah still over here :) 
Hey Balajii! I agree, we should focus on the positives. I totally get it though, I am still so bitter about ALOT of things and probably always will be. But you're right, I will try and focus on the best things, which of course is seasons 1&2. Pretty much FLAWLESS tv! 
Elise agree with you! and I freaking LOVE your hades gif OMG LOL. 
what uppppp guys, been soooo busy had no time to post, really miss when this thread was totally active with discussions etc. miss the show :(
LOL!!! I love their facial expressions hahaahah
hey guys! so while procrastinating once again, I thought about gossip girl, and what I thought of was this...in seasons one and two, what made Blair and Chuck so compelling and so fantastic to watch was the combination of their extremely complex characteristics that were SO distinct, and so consistent, that when these two heightened reality characters connect with each other the result had the potential to be both disastrous and rewarding. Season 2 was so great because not only did Ed and Leighton create these characters that had a whole other language of communication just through their expressions, but what happened was so TRUE to their characters. Chuck couldn't open himself up emotionally, the only times his shell cracked open just briefly was because of Blair, something that made him all the more endearing because WE could see how much he loved Blair and how much his fear of screwing up and hurting her by not being good enough for her was killing him. and Blair was so determined to bring out the side of him she KNEW was there, she never gave up until he self-destructed so badly she had no choice. They were so tragic, you just couldn't HELP but want to root for them to make it work.
My problem is this...WHY did the writers completely change their (especially Chuck's) entire characterisation into season 4 onwards? He was NEVER supposed to be the one constantly bearing his heart and soul to be rejected for no reason, or in some cases rejected callously for something that hadn't even crossed his MIND (5x19). It's just not the way he is written. And I KNOW there is such a thing as character development And by no means am I saying Blair should be the one always reaching out to Chuck to be rebuffed by his inability to express himself, I am saying that Chuck was WRITTEN to have those kinds of issues and what makes their love so powerful is that Blair understands this better than anyone, better than Chuck himself, and she knows how to draw him out when he enters his dark place, and knows how make him happy and VICE VERSA. This has turned into a long rant but it seriously PAINS me so much seeing him in season 5 spouting this never-ending declaration of his love, with Blair over and over again shutting him down until he is left alone drinking scotch. What I am saying is that both Chuck and Blair do NOT resemble themselves in seasons 1&2, Blair is nowhere near as strong and as resolute as what she was, and Chuck doesn't have any of his wry humour and wit. One thing I LOVED about them is their banter, it was SO entertaining! 1x18, 2x01 and the end scene of 2x02 PERFECT examples! I still love them, dont get me wrong lol I ALWAYS will. I'm just saying it's a shame that in order for the writers to feel their characters are showing growth and maturity, they actually felt like they had to completely change huge dimensions of their personalities.
I mean LOOK at them!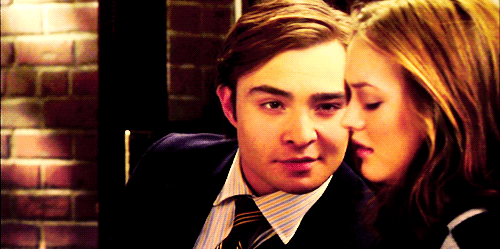 I MISS THEM!!!!!!!! :(
rant over ;) hope you're all doing well!
omg Elena if you're still around here, Nikita is KILLING ME. The writing is so fantastic I am in awe every week, it's crazy!!!!!
hey everyone!!