nicfanz Forum Posts
Bored Now will never give credit to KC. They can win 99/100 polls and have the fanbase the size of China and he'd be like "Not as popular as Forwood." 
I'm sorry, but the jodice stuff seriously annoys me. I made the biggest eye roll ever when I saw hearts drawn over their heads at the table. It's stupid to interpret a relationship from the fact that they're sitting across each other. Although I agree with that person, she's an idiot for stating the obvious and clearly just wants attention. But it is really annoying to watch a fandom ship two people hard because of their fictional relationship. That whole cast is as close as the Brady bunch, kol fucking mikaelson.
I don't think it's a big deal if KC fans think that Candice/Joseph look good together or speculate their personal relationship. I don't think anyone actually said they are together rather "Awww they would make a beautiful couple" or "it would be nice if they dated." Even my friend who doesn't give a fuck about TVD said Candice and Joseph look good together. I don't see why haters have to rain on their parade. Let them think what they want to think.. I see fans want Leighton and Ed to date because of Chair. People do it all the time.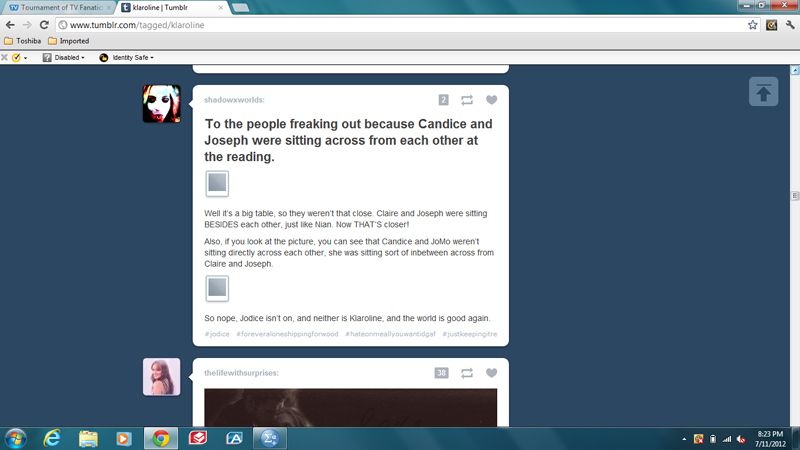 This person is an idiot for a) posting hate in the KC tag. b) Hating on real people. It's one thing to say Klaroline is not gonna happen but to judge real people and say hell no to Jodice because you don't like their respective characters together is stupid and ridiculous. I hate Forwood but I'm not going to attack Michael/Candice if they dated. Bringing in real people into the discussion is freaking retarded. I think this idiot is mad cause they wished Forwood was real. 
Holy shit it was only at 10,000 in May. 
Bored Now, didn't you say that you think Bonnie/Klaus would be interesting in a Klonnie thread last year? Maybe you're mad that your favorite crackship didn't happen.
Klaroline is boss. <3 Some actually voted for Jeremy with 3 votes lol. 
I hate Buttcracksally. She spams Klaroline videos and post shit like "Klaus should have been run over by the car in 3x15 and died." Well I hope Klaus turns into a wolf and eats Tyler and use his shit to fertilize the Forbes' front yard. 
Sorry I don't like MT. I don't think he can act. He was better on 90210 as Ozzie. 
This person summed up my feelings about Forwood perfectly. I know right? i always tried forcing myself to LIKE them but i just couldn't. But with Klaroline i instantly just fell in love with idea of them two. And trust me, i am no where near romantic. Even with stelena + delena, i never actually cared about who elena ends up with. Klaroline is beast. It will make the ratings higher & Be the couple of the show.
I tried to like Forwood in the beginning because I hated Maroline. But I found out that TC had no chemistry and are almost as boring as MC. The only interesting scene they had was when Tyler cornered her outside of school and Caroline twisted his arm back. I also liked it when Tyler came to her house and accused of her being a werewolf and she went all Vamp Barbie on him. Anything after that was downhill. They should have kept Tyler a jerk; he would be at least remotely interesting then.