FIRST CHUCK SOLD BLAIR AND NOW HE WANTS TO BUY HER BACK
Everyone was actually getting along fine in this thread, we can air our views without sinking to the name calling - it's about respecting others
And I'll disagree with that sentiment. The only people who were actually getting along with each other are the ones who share the same opinions. Everyone else is just talking at and over each other and pretending to get along to maintain higher moral ground.
@Juliette Batman is called the dark Knight too.... And he is pretty freaking awesome lol Also, that term has been used to describe Rhett Butler from Gone With the Wind which is considered one of the greatest love stories in America. Now I will be the first to admit that Chuck schemes and has manipulative tendencies, but just because Chuck can be bad, that doesn't mean that Dan is perfect. Dan is flawed too. Now way as bad as Chuck, but still flawed.
I don't think that people getting along across ship differences is fake or disingenuous.  It's a mark of maturity to disagree without being disagreeable.  I keep saying it, but to repeat, we are all different people.  We all can't be with the Dans, or the Chucks, or the Nates of the world.... Just like men appreciate Serenas OR Blairs OR Vanessa's. (As much as I wish I were a Blair, I have to admit that I am SUCH a Vanessa.  Alwys have been. Sigh...).  Variety is the spice of life.
what? chuck is the worst person on gg? ummm no dan is.
He cuts people out of blair's life, alienating blair so that he can be the only one there for her. He lies, judges, and manipulates to get his way. He didn't tell her best friend or her mother where Blair was after the wedding because he wanted to be the only one to save her. Dan is trying to save her and be there for her because he wants something in return from her not because he's in love. if dan really cares about blair and respects her then he needs to respect the people she loves(chuck,eleanor,serena).
chuck used to be the worst character on this show but now he is growing to be a better person. While dan is being the same person he was since season 1. Im not saying he should die and i don't want him to but this is what i think of him atm.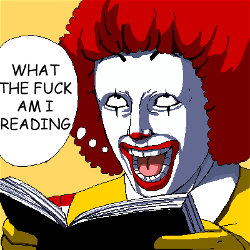 Oh my, I really don't think we should get Ronald McDonald involved [or any of the maccas crew] What a fair few of us are trying to say is that basically everyone is different. We have different opinions, theres nothing wrong with that. There is just no reason to pick on people.