Watch TV Online
Watch Two and a Half Men Season 3 Episode 23
"Arguments for the Quickie"
Original Air Date:
Mia comes back to town for a performance, and at first Charlie refuses to go and tries to convince Alan he doesn't have feelings for her.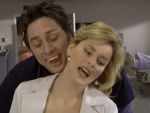 Watch Scrubs Season 5 Episode 23
"My Urologist"
Original Air Date:
J.D. falls for Dr. Kim (Elizabeth Banks) after she removes her wedding ring and instantly appears; Elliot considers breaking up with Keith when he refuses to stand up for himself.
Watch How I Met Your Mother Season 1 Episode 22
"Come On"
Original Air Date:
To try and keep Robin from going on a camping trip with co-worker Sandy Rivers, Ted tries to make it rain with a rain dance. Lily gets accepted to her internship and California and her and Marshall break up.
Watch Family Guy Season 4 Episode 27
"Untitled Griffin Family History"
Original Air Date:
After robbers break into the house, the Griffin family hides in the panic room. While stuck in there, Peter tells the family their history.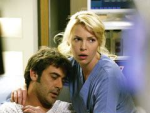 Watch Grey's Anatomy Season 2 Episode 25
"17 Seconds"
Original Air Date:
Just 17 seconds separate Denny from the man ahead of him on the heart transplant list. Had Mr. Duquette's information been entered into...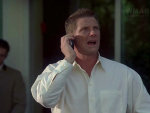 Watch Desperate Housewives Season 2 Episode 22
"No One Is Alone"
Original Air Date:
Susan tries to get Edie to confess to burning down her house on tape; Danielle rescues Matthew and they run away together; Bree admits herself to a mental health institute; Lynette follows Tom to Atlantic City and sees him with another woman.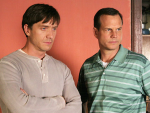 Watch Big Love Season 1 Episode 10
"The Baptism"
Original Air Date:
Barb gets an unexpected visit from her sister, Cindy, who disapproves of their polygamous lifestyle. With his feud with Roman intensifying, Bill attempts to pre-empt him by infilitrating the UEB Priesthood Council.
Watch The Office Season 2 Episode 22
"Casino Night"
Original Air Date:
Dunder Mifflin hosts a Casino Night in their warehouse for charity. The gambling and alcohol create a festive atmosphere for the staff, ...
Watch Scrubs Season 5 Episode 22
"My Déjà Vu, My Déjà Vu"
Original Air Date:
After five years of working at Sacred Heart, J.D. gets the funny feeling the same events keep occurring. Meanwhile, Cox returns to work but loses his self-confidence.
Watch Two and a Half Men Season 3 Episode 22
"Just Once With Aunt Sophie"
Original Air Date:
Jake gets invited to his first boy-girl party and Charlie and Alan give him advice to get ready and reminisce over their first boy-girl parties.