Watch TV Online
Watch How I Met Your Mother Season 1 Episode 8
"The Duel"
Original Air Date:
Ted and Marshall get into a fight over who gets the apartment when Marshall and Lily get married. When the two try to settle it with a sword fight, Lily accidentally gets stabbed.
Watch Family Guy Season 4 Episode 15
"Brian Goes Back to College"
Original Air Date:
After writing a story for a local magazine, Brian gets a job writing for the New Yorker. When he admits he never graduated from college, he's fired, and goes back to school.
Watch Grey's Anatomy Season 2 Episode 8
"Let It Be"
Original Air Date:
Derek and Addison, whose personal relationship is already strained, must cope with additional professional stress when two of their close...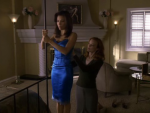 Watch Desperate Housewives Season 2 Episode 7
"Color and Light"
Original Air Date:
Lynette arranges weekly play dates for the kids so she can have alone time with Tom, but learn a secret about the other couple; Bree accepts George's marriage proposal; Susan and Karl sleep together after he breaks up with Edie.
Watch One Tree Hill Season 3 Episode 6
"Locked Hearts and Hand Grenades"
Original Air Date:
Brooke makes a "Fantasy Boy Draft," after all of the cheerleaders are fighting over the same guys. Haley and Peyton continue to argue ov...
Watch The Office Season 2 Episode 7
"The Client"
Original Air Date:
Michael and Jan try to woo a new client over a meal at Chili's, and Jan is surprised at Michael's salesmanship. Bback at the office, Jim...
Watch How I Met Your Mother Season 1 Episode 7
"Matchmaker"
Original Air Date:
Ted goes to a matchmaker whose computer program only returns woman who have already been matched. Lily and Marshall discover a Cockamouse, a combination of a cockroach and mouse, in their apartment.
Watch Two and a Half Men Season 3 Episode 7
"Sleep Tight, Puddin' Pop"
Original Air Date:
Charlie wakes up next to Rose after her birthday party. Her irate father (Martin Sheen), tries to find out Charlie's intention. Things get awkward when Charlie's mother shows up.