Watch TV Online
Watch Hell's Kitchen Season 12 Episode 1
"20 Chefs Compete"
Original Air Date:
Season 12 kicks off with Gordon Ramsay dividing the 20 new chefs into two male-female teams. In the opening challenge, the squads must...
Watch Modern Family Season 5 Episode 17
"Other People's Children"
Original Air Date:
Jay and Luke bond over a conversation about tools while Claire and Gloria take Lily shopping for a flower girl dress on Modern Family.
Watch Nashville Season 2 Episode 17
"We've Got Things to Do"
Original Air Date:
Rayna has a calculated plan for announcing Juliette's deal with Highway 65 but Juliette has her own ideas on Nashville.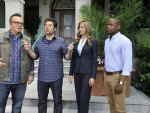 Watch Psych Season 8 Episode 8
"A Touch of Sweevil"
Original Air Date:
Shawn investigates when the speaker at a paranormal convetion dies unexpectedly on Psych.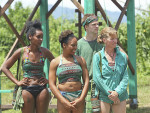 Watch Survivor Season 28 Episode 3
"Our Time to Shine"
Original Air Date:
A tribe may throw the immunity challenge in order to get rid of their strongest member on Survivor: Cagayan.