Watch TV Online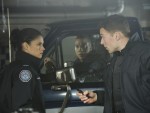 Watch Rookie Blue Season 5 Episode 10
"Fragments"
Original Air Date:
Andy thinks things are going almost too well in her life until Duncan returns to work and a car bomber is on the loose on Rookie Blue.
Watch Satisfaction Season 1 Episode 6
"Satisfaction...Through Exposure"
Original Air Date:
Neil mulls over an unusual proposition while Adriana learns more about his home life on Satifsfaction.
Watch Teen Mom 2 Season 5 Episode 19
"Family Matters"
Original Air Date:
Jenelle starts the divorce process, Kailyn's mom turns back up and Chelsea faces off with Adam on Teen Mom 2.
Watch Suits Season 4 Episode 10
"This Is Rome"
Original Air Date:
Harvey and Jessica deal with the aftermath of the SEC investigation while Louis tries to handle his personal and professional life on Suits.
Watch Graceland Season 2 Episode 10
"The Head of the Pig"
Original Air Date:
A dirty cop causes an undercover operation to go wrong as Briggs heads off in search of Mike on Graceland.
Watch The Bridge Season 2 Episode 7
"Lamia"
Original Air Date:
Adriana and Frye oncover a dangerous discovery while Sonja finds out the truth about Lisa's death on The Bridge.
Watch Extant Season 1 Episode 7
"More in Heaven and Earth"
Original Air Date:
Molly believes the agency has her baby and is determined to find out where on Extant.
Watch Bring It Season 2 Episode 5
"Nashville Smackdown"
Original Air Date:
The Dancing Dolls take on teams from all over the South when they head to Nashville on Bring It.
Watch Franklin & Bash Season 4 Episode 2
"Kershaw vs. Lincecum"
Original Air Date:
The firm's newest attornery runs into problems when a seemingly simple divorce case involves the firm's illegal tennant on Franklin & Bash.