Archer Season 4 Episode 1: "Fugue and Riffs" Photos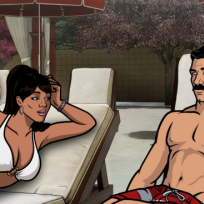 Added:
Displaying 1 photo
Around the Web
Want more Archer?
Sign up for our daily newsletter and receive the latest tv news delivered to your inbox for free!
Ray: Ooh! Here's an idea. Why don't you just saw your God damned head off?
Cyril: Geez. What's up your butt?
Ray: Nothing is up my butt, Cyril. Oh, or maybe there is. I wouldn't know because I'm paralyzed from the waist down and it's Archer's fault!
Krieger: Uh, gettin' some mileage out of that, huh?
Malory: Duly noted and disregarded. And I expect you to be totally convincing.
Lana: As the damsel in distress? Have you ever met a woman less damselly?
Malory: Pam.