TV Fanatic Works Better with Prime Instant Video
40,000 other titles are available to watch now.
Army Wives Season 1 Episode 11: "Truth and Consequences" Photos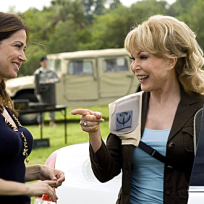 Added:
Displaying 1 photo
Around the Web
Want more Army Wives?
Sign up for our daily newsletter and receive the latest tv news delivered to your inbox for free!
Joan: [jokingly] When was the last time you were in a hotel? You cheating on me with someone Roland?
Roland: Couple of weeks ago, with the reporter.
(on the air) Okay, uh, so much for announcements. Now for a little call-in segment that I'm calling 'Have At It With Pamela Moran.' Where we talk about us - the Army Wives - and what we go through. Like how it feels to be a single mom even when you're married. Or, better yet, what it's like to be the mistress 'cause the Army is the wife and sometimes that bitch gets all the attention! You know, they say, 'Mission First. People Always.' But that's crap. And what the hell does that mean, anyway? Because the Army comes first - period. And we deal with it or we move on. And it doesn't matter if your spouse wears sergeant's stripes, or, or colonel's eagle. Because worrying about your soldier at wartime feels exactly the same. So, forget rank, 'cause people are just people. And uh, speaking of which - I know we all like to gossip, but come on folks, can we just stop all the lies and innuendos about a certain colonel's wife. I mean, what the hell folks! Did we all lose direction to the high road, or what?

Pamela