Curb Your Enthusiasm Season 3 Episode 7: "The Corpse Sniffing Dog" Photos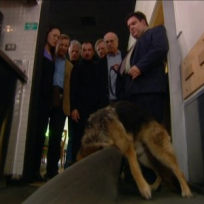 Added:
Displaying 1 photo
Around the Web
Want more Curb Your Enthusiasm?
Sign up for our daily newsletter and receive the latest tv news delivered to your inbox for free!
Jeff: So you have to decide between whether you want Daddy, or Oscar.
Sammy: Mmm...Oscar!
Jeff: No, no. Whay I'm saying is, that if you say Oscar, Daddy won't be here.
Sammy: I know.
Jeff: You know?
Sammy: (nodding) Mmhum
Jeff: But you're choosing Oscar. I'm your Dad.
Sammy: I just love that dog.
Jeff: A dog! She chose a fucking dog over her own father.
Larry: You sat down and you laid it out?
Jeff: I talked to her. I told her, 'Daddy's sick. He can't stay in the same house with Oscar.' She wants Oscar! She wants the dog!
Larry: Calm down
Jeff: Where is the dog?!
Larry: They took him back to your house.
Jeff: My house? No, no, no, his house. His house. I'm at the W hotel. It's his house now.