TV Fanatic Works Better with Prime Instant Video
40,000 other titles are available to watch now.
Desperate Housewives Season 2 Episode 17: "Could I Leave You?" Photos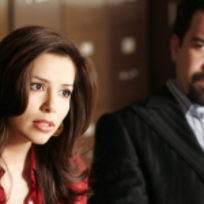 Added:
Displaying 1 photo
Around the Web
Want more Desperate Housewives?
Sign up for our daily newsletter and receive the latest tv news delivered to your inbox for free!
(Susan sees Dr. Ron walking out of the house)
Susan: Where is he going?
Karl: Uh, we've got a bit of a plumbing emergency.
Susan: So you sent him over to Mike's?!
Susan: So, you ran out of strangers to beat up on the street and you're going from house to house now?
Mike: I feel really awful about what happened.
Susan: You don't wanna be my boyfriend? Fine. Don't beat up the only guy who wants to volunteer for the job.
Mike: Look, I know I overreacted but come on, the way he was yelling at you?
Susan: I deserved it believe me, after what I did. God, this is such a mess, he won't even return my phone calls.
Mike: What did you do?
Susan: I said something to Dr. Ron before the operation and it just devastated him.
Mike: What?
Susan: I can't tell you.
Mike: Yeah, you can tell me anything you know that. (They are interrupted by a phone call) You wanna talk about this later?
Susan: No. No, not really. What's the point?