Elementary Season 1 Episode 4: "The Rat Race" Photos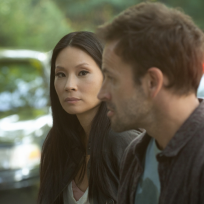 Added:
Displaying 1 photo
Around the Web
Want more Elementary?
Sign up for our daily newsletter and receive the latest tv news delivered to your inbox for free!
Jim: My name is Jim Fowkes. I am the chief vestment officer. This is Daniel Cho our Chief Financial Officer another in-house board member.
Sherlock: Yep. You're all chiefs of something. What do you want?
Aaron: What is I.M.L.T.H.O?
Sherlock: In my less than humble opinion.
Watson: You're abbreviations are becoming borderline indecipherable. I don't know why, because you are obviously capable being articulate.
Sherlock: Language is evolving Watson becoming a more effective version of itself. I love text shorthand. It's a way you to convey content and tone without losing velocity.