Family Guy Season 7 Episode 8: "Family Gay" Photos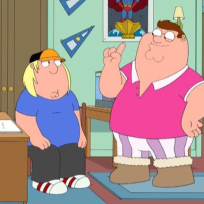 Added:
Displaying 1 photo
Around the Web
Want more Family Guy?
Sign up for our daily newsletter and receive the latest tv news delivered to your inbox for free!
Lois: Peter, where have you been? You left for the market six hours ago! Did you get the beans?
Peter: Lois, I've got something better! You know how you've always wanted a real diamond engagement ring?
Lois: [gasps, touched] Oh my God!
Peter: That's right, I've bought a horse!
Peter: Okay, what's next?
Doctor: This is the Seth Rogen gene. It will give you the appearance of being funny, even though you haven't actually done anything funny.