Family Guy Season 8 Episode 12: "Go Stewie Go" Photos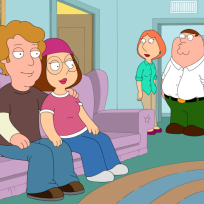 Added:
Displaying 1 photo
Around the Web
Want more Family Guy?
Sign up for our daily newsletter and receive the latest tv news delivered to your inbox for free!
Peter: She ain't what she used to be. Once you get those pants off it's like two sagging breast hams and a slice of pizza.
Lois: Thank you, Peter, that makes me feel terrific.
Peter: Lois, you have a gray hair.
Lois: What?
Peter: Inch and a half left of your part.
Lois: Oh my god, you're right.
Peter: You know I don't mind so much that you're aging, it's just the way you're shoving it down my throat.
Lois: Screw you Peter.
Peter: Wow, not today.