Family Guy Season 5 Episode 4: "Saving Private Brian" Photos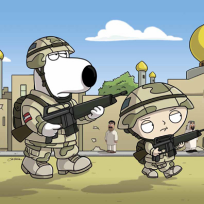 Added:
Displaying 1 photo
Around the Web
Want more Family Guy?
Sign up for our daily newsletter and receive the latest tv news delivered to your inbox for free!
(playing piano and singing) I am Peter Griffin, I like fancy food, I like reading comic books and dressing like a dude! (throws piano) Oh yeah! Rock 'n' roll!

Peter
Chris: The army sounds awesome! And the recruiter said, with any luck, I could get the clap from a twelve year-old Chinese prostitute.
Peter: Oh, that's great! You'll be serving your country, just like American film legend, Mickey Rooney.
(scene switches to Mickey Rooney in a chair)
Mickey Rooney: Hi, I'm former biggest star in the world Mickey Rooney, and, as you may know, I am totally and completely insane! I like to yell at mice with my shirt off! (a shirtless Rooney kneels by a mouse) Aaah! Aaah! Sometimes, I like to steal other people's scabs! (Rooney steals a man's scab and runs off) Aaah! Aaah! How do I stay so crazy? (lifts up a jar of pills) Mickey Rooney's Crazy Pills! Take one with breakfast, one with lunch, and before you know it, you'll be up on your roof, pooping in the chimney! (switches to Rooney sitting on a chimney, pants down) Hold out your stockings, kids!