Family Guy Season 5 Episode 4: "Saving Private Brian" Photos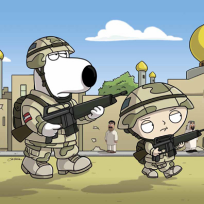 Added:
Displaying 1 photo
Around the Web
Want more Family Guy?
Sign up for our daily newsletter and receive the latest tv news delivered to your inbox for free!
(Gregory Peck and his kids are riding in the car, his kids look and talk exactly like him)
Son #1: Are we there yet?
Son #2: It's crowded back here!
Son #3: Stop touching me!
Son #2: Your leg is rubbing up against mine!
Gregory Peck: Hey! Quiet down or I'm pulling over.
Son #1: Stop breathing on the window!
Son #2: You idiot! That's condensation, it's on the outside.
Gregory Peck: That's it! I will come back there and so help me god, I will hit you with my ring-hand.
(playing piano and singing) I am Peter Griffin, I like fancy food, I like reading comic books and dressing like a dude! (throws piano) Oh yeah! Rock 'n' roll!

Peter