TV Fanatic Works Better with Prime Instant Video
40,000 other titles are available to watch now.
Friends Season 2 Episode 5: "The One with Five Steaks and an Eggplant" Photos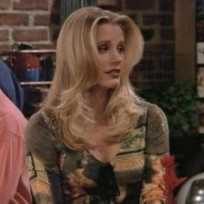 Added:
Displaying 1 photo
Around the Web
Want more Friends?
Sign up for our daily newsletter and receive the latest tv news delivered to your inbox for free!
Ross: (About the phone ringing) Still doing the screening thing?
Chandler: I had sex today. I never have to answer that phone again.
Machine: (Joey's voice) Here comes the beep, you know what to do.
Jade: Hey, Bob, it's Jade. Listen, I just wanted to tell you that I was really hurt when you didn't show up the other day, and just so you know, I ended up meeting a guy.
Chandler: Bob here.
Jade: Oh, hi.
Chandler: So, uh, you met someone, huh?
Jade: Yes, yes, I did. In fact, I had sex with him two hours ago.
Chandler: So, uh, how was he?
Jade: Eh.
Chandler: Eh?
Jade: Oh, Bob, he was nothing compared to you. I had to bite my lip to keep from screaming your name.
Chandler: (Tying to act cool) Well, that makes me feel so good.
Jade: It was just so awkward and bumpy.
Ross: (Mouthing) Bumpy?
Chandler: Well, maybe he had some kind of uh, new, cool style, that you're not familiar with. And maybe you have to get used to it.
Jade: Well there really wasn't much time to get used to it, you know what I mean?
Chandler: I'm not sorry I'm late. How incredible was my afternoon with Jade?
Ross: Well, pretty incredible according to the message she left you on my machine. Hey, Chandler, why is this woman leaving a message for you on my machine?
Chandler: Oh, see, I had to tell her that my number was your number, because I couldn't tell her that my number was my number because she thinks that my number is Bob's number.