TV Fanatic Works Better with Prime Instant Video
40,000 other titles are available to watch now.
Friends Season 2 Episode 1: "The One with Ross's New Girlfriend" Photos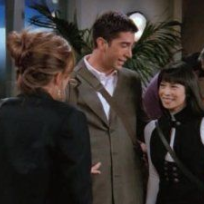 Added:
Displaying 1 photo
Around the Web
Want more Friends?
Sign up for our daily newsletter and receive the latest tv news delivered to your inbox for free!
Chandler: Joey's tailor... took advantage of me.
Ross: What?
Joey: No way, I've been going to the guy for twelve years.
Chandler: Oh come on, he said he was going to do my inseem, then he ran his hand up my leg and then there was definite...
Ross: What? (Chandler closes his eyes)
Chandler: Cupping.
Joey: That's how they do pants! First they go up one side, they move it over, then they go up the other side then they move it back, and then they do the rear. Ross, will you tell him. Isn't that how a tailor measures pants?
Ross: Yes, yes it is... in prison!
Joey: How are you doing?
Rachel: I'm okay.
Joey: Ooh, that bad, huh? Look, I can sense when women are depressed and vulnerable. It's one of my gifts.
Rachel: When I saw him get off that plane with her, I really thought I hit rock bottom. But today, it's like there's rock bottom, then fifty feet of crap, then me.