Friends Season 3 Episode 3: "The One with the Jam" Photos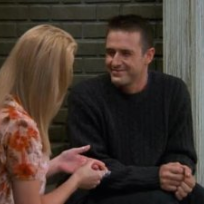 Added:
Displaying 1 photo
Around the Web
Want more Friends?
Sign up for our daily newsletter and receive the latest tv news delivered to your inbox for free!
Chandler: Okay Joe, I gotta ask. The hot girl from the xerox place buck naked (He gestures with his one hand), or a big tub of jam (He gestures with his other hand)?
Joey: Put your hands together.
Ross: Let's say, Janice is coming back from a trip and she gives you two options. Option number 1, she'll take a cab home from the airport. Option 2 is you can meet her at baggage claim. Which do you do?
Chandler: That's easy, baggage claim.
Ross: (Buzzes) Wrong! Now you're single. It's actually secret option number three, you meet her at the gate. That way she knows you love her.