TV Fanatic Works Better with Prime Instant Video
Try it Now for Free and Instantly Watch Gilmore Girls.
Gilmore Girls Season 2 Episode 22: "I Can't Get Started" Photos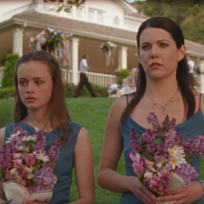 Added:
Displaying 1 photo
Around the Web
Want more Gilmore Girls?
Sign up for our daily newsletter and receive the latest tv news delivered to your inbox for free!
Dean: (Referring to Babette and Miss Patty singing) So, how many cocktails caused that?
Rory: Oh, they haven't had any cocktails yet.
Dean: Really?
Rory: Oh yeah, when they start having cocktails we're gonna have to hide you.
(Lorelai is trying to patch things up with Luke, who remains oblivious to it)
Lorelai: So, this is how it's gonna be with us now, huh?
Luke: No idea what you're talking about.
Lorelai: You're pulling a Mr. Freeze on me.
Luke: I'm not pulling a Mr. Freeze on you.
Lorelai: Please. I'm gonna need snow chains just to get out of here.
Luke: I assume you want coffee with your donuts.
Lorelai: I'm sorry, Luke. It was a bad night. I completely freaked out. I said some things... Did you get my note? I wrote you a note.
Luke: Got your note.
Lorelai: You got my note. Did you read my note?
Luke: Read your note.
Lorelai: And?
Luke: It was very well-written
Lorelai: That's it?
Luke: I also enjoyed the Garfield stationary. That's one funny cat.
Lorelai: I said I was sorry, Luke.
Luke: Yes, you did.
Lorelai: I said it like a million times.
Luke: You said it four times, but I understand you're embellishing for dramatic effects.
Lorelai: Stop.
Luke: Stop what?
Lorelai: Oh, stop this robot talk. If you're mad, just act like you're mad at me.
Luke: I'm not mad at you.
Lorelai: You're being really, really unfair. Rory was in the hospital.
Luke: Lorelai, what is it exactly that you want me to do? I'm not mad, I'm not holding a grudge, I heard your apology, I feel I'm being polite, I listened to your donut bit, I got you your coffee. What would make you happy?
Lorelai: I want Luke back.
Luke: He's standing right here.
Lorelai: No, he's not. (she walks out of the diner)