Glee Season 4 Episode 21: "Wonder-ful" Photos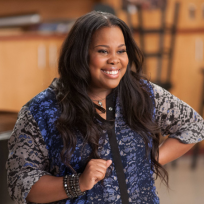 Added:
Displaying 1 photo
Around the Web
Want more Glee?
Sign up for our daily newsletter and receive the latest tv news delivered to your inbox for free!
Kitty: Hey Crippy Longstocking, wait up!
Artie: That's offensive.
Kitty: Aw, boo hoo.
Will: Brittany's at M.I.T. touring the campus because she's got an early acceptance.
Kitty: That can't be true.