TV Fanatic Works Better with Prime Instant Video
40,000 other titles are available to watch now.
Grey's Anatomy Season 6 Episode 23: "Sanctuary" Photos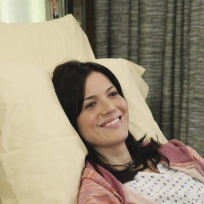 Added:
Displaying 1 photo
Around the Web
Want more Grey's Anatomy?
Sign up for our daily newsletter and receive the latest tv news delivered to your inbox for free!
Meredith: Do you wanna talk about it?
Cristina: No.
Meredith: Owen I mean.
Cristina: I know what you mean. I don't want to
Meredith: [narrating] For most people, the hospital is a scary place. A hostile place. A place where bad things happen. Most people would prefer church, or school, or home, but I grew up here. While my mom was on rounds, I learned to read in the OR gallery, I played in the morgue, I coloured with crayons on old ER charts. Hospital was my church, my school, my home; hospital was my safe place, my sanctuary. I love it here. Correction: loved it here.