Hart of Dixie Season 2 Episode 8: "Achy Breaky Hearts" Photos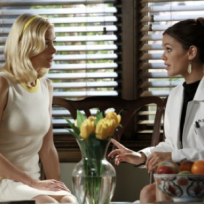 Added:
Displaying 1 photo
Around the Web
Want more Hart of Dixie?
Sign up for our daily newsletter and receive the latest tv news delivered to your inbox for free!
Conor: Why you avoiding George Tucker?
Wade: He suspects I have something that he believes he should have. If he found out I, in fact, did have it. He would be upset.
Conor: What do you have?
Wade: Uh... Um... A cookie.
Magnolia: Did you just text me?
Brick: I was looking for you!
Magnolia: Do not ever text me! Do you know how embarrassing that its!