It's Always Sunny in Philadelphia Season 6 Episode 1: "Mac Fights Gay Marriage" Photos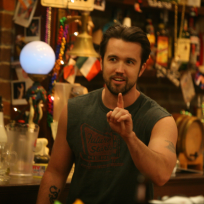 Added:
Displaying 1 photo
Around the Web
Want more It's Always Sunny in Philadelphia?
Sign up for our daily newsletter and receive the latest tv news delivered to your inbox for free!
Dennis: I am having feelings again. Like some kind of fourteen year old kid. You remember, feelings right?
Mac: Yeah. I have feelings every single day of my life.
Dennis: Do you?
Mac: Are you saying you don't have feelings?
Dennis: What I'm saying is a built up a shell.. a shell around myself. A cold, calculated shell that couldn't be broken by anything but marriage.
Mac: Why are you jamming me up, bro?
Gym Manager: I'm not trying to jam you up, I just don't believe you.
Mac: What is not to believe? I'm absolutely Dennis Reynolds.
Gym Manager: This picture looks nothing like you.
Mac: Well, thank you, cause I've actually packed on about fifteen to twenty pounds of solid bulk muscle since that picture was taken. It's actually a testament to your gym.