TV Fanatic Works Better with Prime Instant Video
Try it Now for Free and Instantly Watch It's Always Sunny in Philadelphia.
It's Always Sunny in Philadelphia Season 8 Episode 5: "The Gang Gets Analyzed" Photos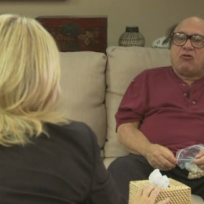 Added:
Displaying 1 photo
Around the Web
Want more It's Always Sunny in Philadelphia?
Sign up for our daily newsletter and receive the latest tv news delivered to your inbox for free!
Therapist: 'Charlie Work'? What's 'Charlie Work'? Fill me in.
Charlie: Oh, right. You don't know 'Charlie Work'. Well, 'Charlie Work' is like basement stuff, cleaning urinals, blood stuff, your basic slimes, your sludges, anything dead or decaying, I'm on it, I'm dealing with it.
Therapist: And you dislike it?
Charlie: Oh, no. I love it. I love the dark. I love slippery things. I love being naked... in the sewer. Bleach smells good, it tastes good...
Frank: I opened up to a therapist just once. I was a kid. I got into a fight. The doctor asked me question after question, got me so scrambled up. Next thing I know, I was shanghai'd upstate to a nitwit school. You know what a nitwit school is?
Therapist: I assume you mean a school for the mentally disabled.
Frank (spits pistachio shell): Yeah, not just for nuts in the head, but bodies, too. Back then science was real crude, they stuck us all together. My roommate was a frog-kid. You ever see a frog-kid?