TV Fanatic Works Better with Prime Instant Video
40,000 other titles are available to watch now.
Luck Season 1 Episode 8: "108" Photos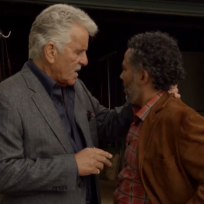 Added:
Displaying 1 photo
Around the Web
Want more Luck?
Sign up for our daily newsletter and receive the latest tv news delivered to your inbox for free!
Leon: The most specialist stuff there is, cause I've tried everything I heard of.

Ronnie: I won the Kentucky derby. Where I've been since...this race coming up is the biggest race of my life. I ain't about to f**k up my own luck ruining things for somebody else.
DiRossi: So now we're out of his move.
Mike: Out of his move, Nick? No. It's Ace with whom we're severing connections. We're businessmen after all, and savage bands are hardly in short supply. We're gonna take over and multiply Ace's plans, bring in slots and table games, put the sport on a sound fiscal basis.
DiRossi: While Bernstein's doing what?
Mike: My thought, Nick, would be nothing at all.