Ray Donovan Season 1 Episode 2: "A Mouth is a Mouth" Photos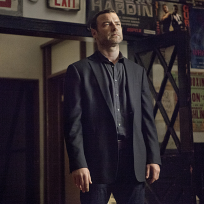 Added:
Displaying 1 photo
Around the Web
Want more Ray Donovan?
Sign up for our daily newsletter and receive the latest tv news delivered to your inbox for free!
Do you know how much money I gave after Katrina? Darfur? I'm a good person. You know, I struggle, I hurt, I make mistakes. But I'm a good person. I make this world a better place. You gotta help me Ray.

Sean
Mickey: Conor, you a fag?
Conor: I don't think so.
Mickey: I met some stand up fags in prison. Good guys. Tough guys. If one of your little friends wants to give you a blow job, that's fine. A mouth is a mouth. But don't let them f*ck you in that ass. That's how you get sick.
Conor: Thanks Grandpa.